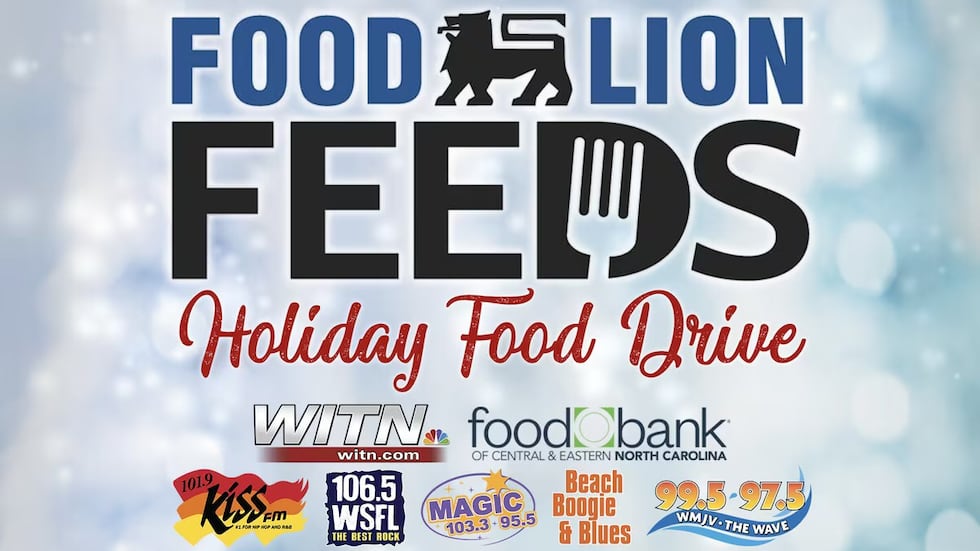 Sponsored - The following content is created on behalf of Food Lion Feeds and does not reflect the opinions of Gray Media or its editorial staff. To learn more about Food Lion Feeds, visit https://newsroom.foodlion.com/news-releases/news-release-details/food-lion-feeds-charitable-foundation-awards-more-14-million.
Food Lion Feeds, the Food Bank of Central & Eastern North Carolina, WITN and Curtis Media Group are teaming up for a Holiday Food Drive! This year, we're asking you to help us provide hope for the holidays.
We all know the feeling of warmth, security, and belonging that comes from being around a meal with family. Holidays are usually a reprieve from day-to-day worries and struggles, and a time to come together.
The Food Bank of Central & Eastern North Carolina at Greenville and New Bern together serve 10 counties – Edgecombe, Greene, Lenior, Pitt, Wilson, Carteret, Craven, Jones, Onslow, and Pamlico.
The food drive starts Wednesday, November 15, and runs through Friday, November 17. The event will be held each day from 11 a.m. to 7 p.m. at different Food Lion stores throughout Eastern Carolina. At each location, there will be a Curtis Media radio station and a WITN news personality. Below is a list of locations:
Wednesday 11/15 Store Location: 1914 Turnbury Dr. Greenville, NC 27858 News Personality: Courtney Bunting

Thursday 11/16 Store Location: 3301 M.L. King Jr. Blvd, New Bern NC 28561 News Personality: Deric Rush

Friday 11/17 Store Location: 1304 W. Vernon Ave Kinston, NC 28504 News Personality: Dave Jordan
If you can't make it to the food drive, Click here to donate online. For every $1 donated, the Food Bank can generally provide 5 meals.