Tulsa Edges East Carolina 2-0 In Regular Season Finale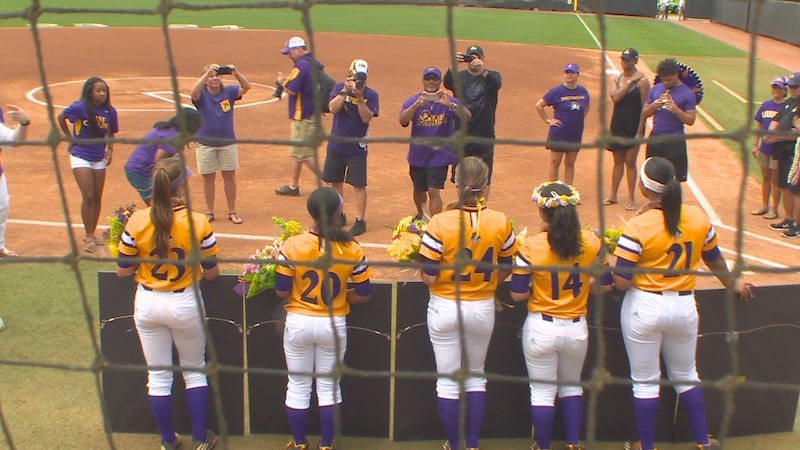 Published: Apr. 30, 2017 at 7:34 PM EDT
GREENVILLE, N.C. – East Carolina battled American Athletic Conference leader Tulsa to the wire for the second-straight day, but the Hurricane was able to muster a 2-0 victory to complete the series sweep Sunday afternoon at the ECU Softball Stadium. The contest signaled the end of the regular season for the Pirates who will host the conference tournament May 11-13.
Team Records: East Carolina – 25-29, 5-13 AAC \\\ Tulsa – 36-13, 14-1 AAC
The Rundown
Junior infielder Meredith Burroughs was 3-for-4 while outfielder Kacie Oshiro celebrated her Senior Day with a two-hit effort as ECU out-hit Tulsa 8-7 in the game. Shelby Estocado was the only Hurricane batter to record multiple hits as she was 2-for-3. Julia Hollingsworth and Tori Stafford drove in Tulsa's two runs.
Haley Meinen (6-1) grabbed the win in relief of Madison Higley as Meinen threw five scoreless innings and struck out three batters. She surrendered six base hits as well. Senior RHP Lydia Ritchie (16-15) took another tough-luck loss as she allowed just two runs on seven hits with no walks and one strikeout.
How They Scored
The Hurricane scored its first run in the top of the second thanks to a leadoff home run off the bat of Tori Stafford. Tulsa then added some insurance in the top of the fifth. Sarah Hughes doubled to left center to lead off the frame and Estocado laid down a bunt single to put runners on the corners with no outs on the board. Hollingsworth drove in Hughes with a sacrifice fly to right field to make it a 2-0 before Ritchie settled down and retired the next two batters to keep the ECU deficit at a pair.
Statistics of the Game
The Pirates left 10 runners on base and were just 3-for-16 with runners on base and 2-for-9 with runners in scoring position.
Up Next
East Carolina will host the American Athletic Conference Softball Championship from May 11-3 at the ECU Softball Stadium. The Pirates will know their seed and matchup following the conclusion of the conference's regular season next weekend.