Shockers even series with No. 8 ECU Baseball, 3-1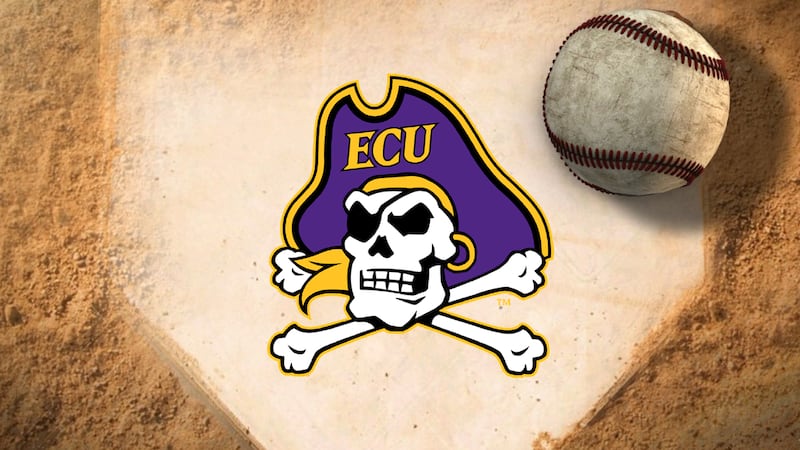 Published: May. 11, 2019 at 8:56 PM EDT
Clayton McGinness tossed his first career complete game helping Wichita State to a 3-1 American Athletic Conference win over No. 8 ECU Saturday afternoon at Eck Stadium. With the win, the Shockers improved to 23-27 (7-13) on the season, while the Pirates fell to 38-12 (17-3).
In a one-all tie late in the game, Wichita State scored a pair of runs in the eighth frame taking a 3-1 lead and rode the coattails of McGinness to even the three-game league series. With one out, Ross Cadena and Brady Slavens drew consecutive walks off of Gavin Williams to get the frame going. After Williams fanned Alex Jackson for the second out, Hunter Gibson's pinch-hit RBI single through the left side plated Cadena from second and pushing Slavens to second. Jacob Katzfey followed with another RBI base hit through the right-side scoring Slavens.
McGinness (5-4) surrendered just one run (earned) over his nine frames where allowed five hits, walked one and struck out four. The senior right-hander had a hand in turning a pair of double plays on spectacular grabs in the infield that thwarted patenting ECU threats on the day.
Williams (1-3) suffered the loss giving up the two runs in the eighth (both earned) on two hits with a pair of walks and one strikeout in his two-thirds of relief work. Starter Jake Kuchmaner gave up one run (unearned) on six hits with three walks while punching out eight (one short of his career-high). Evan Voliva walked one in one-third of an inning and Zach Barnes fanned the lone batter he faced in the eighth.
With both teams throwing up zeroes through five innings, ECU finally broke through in the sixth taking a 1-0 lead. Thomas Francisco singled up the middle and was immediately lifted for Christian Jayne as the pinch runner. Brady Lloyd's sac bunt moved Jayne over to second and Ryder Giles' base hit back up the middle scored Jayne with ease.
The Shockers knotted the game at one in the home half of the seventh inning thanks to a Pirate throwing error. With two away, Katzfey singled to left field and Jordan Boyer followed with an infield single. On the same play, where Giles made a diving stop and throw over to first, Katzfey broke for third and an errant throw by Spencer Brickhouse allowed Katzfey to score tying the game at one-all.
ECU managed just five hits on the afternoon getting singles from Turner Brown, Alec Burleson, Francisco, Giles, and Lane Hoover, who extended his hit streak to a personal-best 10 games. Brown (fifth inning) and Burleson (sixth inning) both extended their streaks to eight games.
Katzfey led the Shockers offense going 3-for-4 with an RBI and a run scored. Mason O'Brien tallied a pair of hits, while Boyer, Gibson, and Slavens each added a hit.
ECU will look to win its seventh league series of the season when it returns to the diamond on Sunday, May 12 for the series finale against Wichita State. First pitch is slated for 2 p.m. (ET).