Shawn Williams earns fourth Rookie-Of-The-Week Award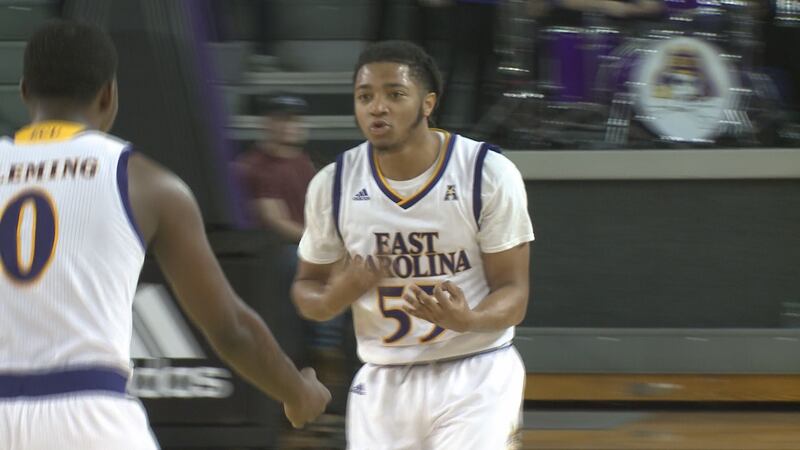 Published: Feb. 19, 2018 at 3:11 PM EST
GREENVILLE, N.C. – Shawn Williams was named American Athletic Conference Rookie-of-the-Week for the fourth time after averaging 27.5 points per game in a pair of contests last week. The Little Rock, Ark., native dropped 29 points on Tulane in New Orleans Wednesday night and followed that with 26 points against UConn Sunday.
In addition to his 27.5 points per game, Williams shot 68.0 percent from the field (17-of-25), 68.4 percent from beyond the 3-point arc (13-of-19) and 100.0 percent (8-of-8) at the free throw line.
After going 6-of-6 from outside the 3-point arc at Tulane, Williams buried an ECU freshman record and career-high seven 3-pointers against UConn, and in the process became the first rookie in school history to make 60 3s in a season. He also became the ninth freshman at ECU to score more than 300 points in a season.
Williams leads all American Athletic Conference freshmen in points per game (12.2 ppg), 3-point field goal percentage (.386) and 3-point field goals made per game (2.4). His 61 made 3s are the fourth-most in the league this season.
He is averaging over 15 points per game in conference play and shooting better than 42 percent outside the arc against league opponents.
Williams' four Rookie-of-the-Week honors are tied for most by an ECU player, equaled only by B.J. Tyson in 2014-15.
ECU returns to action Wednesday, Feb. 21, inside Williams Arena at Minges Coliseum against SMU. Tip-off is scheduled for 7 p.m.