Sanford's One-Hitter Lifts ECU Over Memphis In AAC Softball Series Finale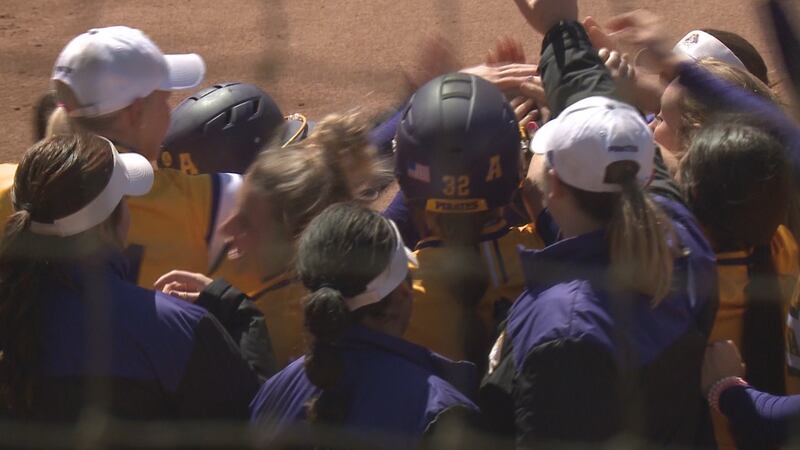 Published: Apr. 8, 2018 at 7:20 PM EDT
GREENVILLE, N.C. – Freshman RHP Whitney Sanford took a no-hitter into the sixth inning Sunday afternoon, propelling ECU to a 4-1 victory over Memphis in the teams' American Athletic Conference series finale at the ECU Softball Stadium.
Team Records
ECU – 16-24 (2-7 AAC)
Memphis – 29-11 (5-4 AAC)
How it Happened: After Sanford recorded a pair of strikeouts in the top of the first inning, freshman Ashleigh Inae roped a one-out double into left center. With two outs, redshirt senior Alex Mycek unloaded on an 0-0 offering and sent it sailing over the left field wall to stake the Pirates to a 2-0 advantage after one complete. ECU added to its lead in the bottom of the third inning. Senior Meredith Burroughs drew a leadoff walk and Mycek singled to left center. With two outs on the board, senior Karlie Smith plated Mycek with an infield single to leave the Pirates with a 3-0 cushion moving to the fourth. The Tigers pulled a run back in the top of the fourth via a sacrifice fly, but Sanford shut Memphis down the rest of the way. Smith tacked on a run in the bottom of the sixth inning with a solo home run to provide the final margin of victory for ECU.
Pitchers of Record
WP – Whitney Sanford (6-10)
LP – Mariah Nichols (11-6)
Top ECU Performers
Alex Mycek: 2-for-3, 2 Runs, 2 RBI, HR
Karlie Smith: 2-for-3, Run, 2 RBI, HR
Whitney Sanford: 7.0 IP, 1 Run, 1 Hit, 5 Walks, 4 Strikeouts
Top Memphis Performers
Delaney Smith: 1-for-2
Brooke Lee: RBI, 2 Walks
Baylee Smith: Run, Walk
Things To Note
The Pirates improved to 23-13 all-time against Memphis.
Sanford tossed her third complete game of the season and second of the weekend series.
The Tigers were 0-for-10 with runners on base while ECU was 4-for-13.
The Pirates posted three two-out RBI in the contest.
Up Next: ECU travels north to Connecticut next weekend (April 13-15) for a three-game AAC series with the Huskies.