Robinson to lead ECU external operations as Executive Associate AD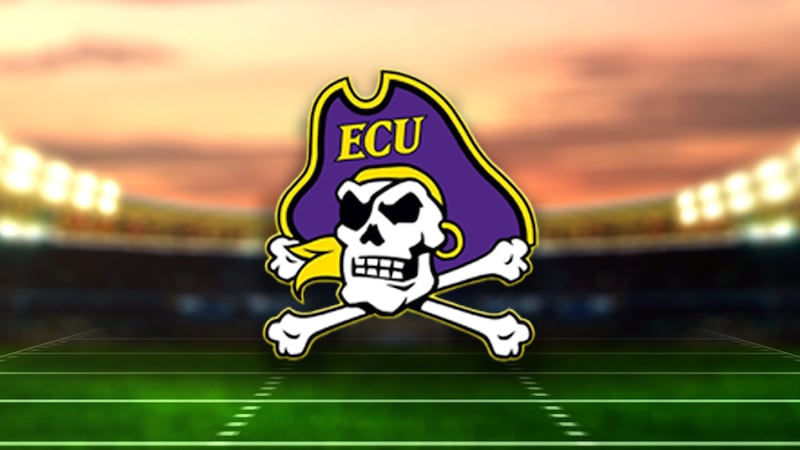 Published: Dec. 21, 2018 at 7:18 PM EST
Ryan Robinson has been named executive associate athletics director for external operations at East Carolina University according to an announcement by director of athletics Jon Gilbert Friday.
In his role at ECU, Robinson will oversee the day-to-day operations of all external areas, which includes marketing and promotions, social media, ticket sales and operations, media relations and video services. Additionally, he will also serve as the liaison to IMG College Sports Properties, the Pirates' multi-media rights holder.
With more than two decades of experience in athletics administration, Robinson has worked in the National Football League, intercollegiate athletics, university administration and for the Emerald Youth Foundation, a non-profit Faith-based organization in Knoxville, Tenn.
"We are excited to welcome Ryan to the Pirate Family," Gilbert said. "He has a breadth of experience in athletics and is a proven leader. Ryan is passionate about his work, brings energy each day and is a great fit for the culture we are building on campus. He's a dynamic communicator who knows how to collaborate across different channels and understands the importance of relationships. He will be a huge asset to our department."
Robinson spent the last four years at the University of Tennessee where he served on the athletics leadership team and the chancellor's cabinet. He was named Vice Chancellor for Communications in May, 2017 where had direct oversight of the office of communications and marketing, while also serving as a liaison to the athletics department and chief of staff with a direct reporting line to the chancellor.
Robinson was initially hired at UT in 2015 as senior associate athletic director for communications. He had direct oversight of media relations, internet communications, broadcasting and creative services.
"I am so thankful to Jon Gilbert and members of the search committee for allowing me to be part of an institution that truly has limitless potential," Robinson said. "This is an exciting time at East Carolina University and I feel very fortunate to have the opportunity to join a talented team of individuals. ECU has a powerful brand and we will sell that brand. I look forward to collaborating with the staff, coaches and the ECU community as we work to support our student-athletes and advance the proud tradition of Pirate athletics."
Before joining the UT staff, Robinson spent 10 years with the NFL's Jacksonville Jaguars where served as director of public relations. In that role, Robinson coordinated local, regional and national media opportunities and worked directly with the head football coach, coaching staff, front office and players.
Prior to his stint with the Jaguars communications team (2005-2015), Robinson served as executive director of Peyton Manning's PeyBack Foundation (2001-05) and assistant director of public relations for the Indianapolis Colts (1999-2001).
A native of Ashland, Kentucky, Robinson earned his bachelor's degree in journalism from the University of Kentucky in 1997.
What they are saying about Ryan Robinson...
David Garrard, former ECU and NFL quarterback
"I am really excited for my alma mater with the hiring of Ryan Robinson and all the momentum the department has moving forward with the addition of Jon Gilbert and Coach Houston. I had the opportunity to work with Ryan for six years at the Jacksonville Jaguars, and I have a lot of respect for how he approaches his job. He's a true pro, a hard worker, and someone who will fit in well in the community. As I have told Ryan before, ECU is a special place and I'm glad he's going to be on our team."
Peyton Manning, former NFL quarterback
"Ryan Robinson is a great hire for East Carolina. I've had the privilege of working with Ryan on two different occasions, first with the Indianapolis Colts and more directly when we chose Ryan to serve as the executive director of the PeyBack Foundation. In talking with Ryan, I know he is looking forward to working again with Jon Gilbert, who I have a lot of respect for from his time at Tennessee. Ryan is genuine in his approach with people and will bring a team environment to the department. He has a wide range of experience and has had the unique opportunity to work in the NFL, college athletics and with the university administration.
Steve Diggs, President & CEO, Emerald Youth Foundation
"Ryan has tremendous leadership skills and is a gifted communicator. On top of that, he is someone people genuinely like and enjoy working with. I am grateful for the time he spent with us at Emerald Youth and can say that he truly cares about using the vehicle of athletics to reach young men and women and impact their lives for good. I know he will be successful in this new role."