No. 9 ECU drops series at No. 22 UConn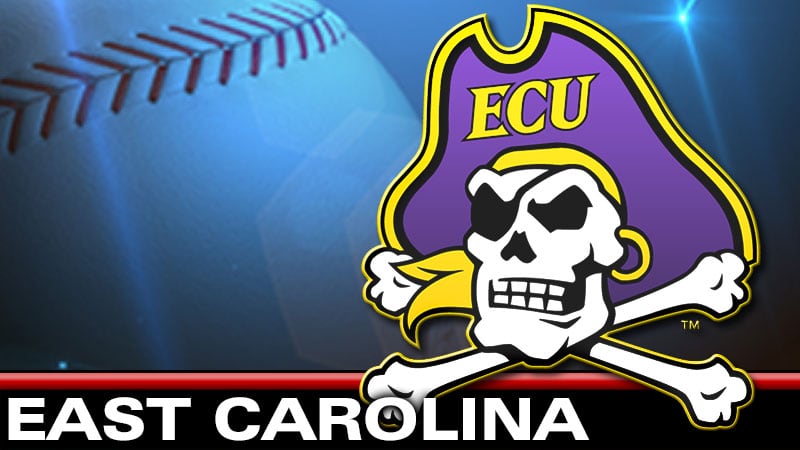 Published: May. 18, 2018 at 8:30 PM EDT
STORRS, Conn. – No. 9 ECU closed out the 2018 regular season splitting a doubleheader at No. 22 UCONN Friday afternoon at J.O. Christian Field. The Pirates claimed a Game 1 win, 6-3, but dropped Game 2 and the series 4-2 in American Athletic Conference action. With the split the Pirates are 39-15 (14-10 AAC) while the Huskies are 32-18-1 (14-10 AAC).
How It Happened (Game 1):
ECU wasted no time in getting on the scoreboard plating a pair of runs in the first frame, 2-0. Bryant Packard doubled to start the game, took third on a wild pitch and came home on Spencer Brickhouse's RBI fielder's choice. Brickhouse swiped his fourth bag of the season to move into scoring position and scored on Jake Washer's single down the right field line. Packard's 13th home run of the season, a two-run shot to left field, extended the Pirates lead to 4-0 in the fourth inning. Brickhouse added to ECU's lead, 5-0, with a solo blast to right field in the fifth frame. UCONN finally got on the board in the fifth scoring a pair of runs and cutting into the lead, 5-2. Conor Moriarty and John Toppa laced back-to-back doubles for the first run and two batters later, Zac Susi plated Toppa on a ground out to third. Packard's second home run of the game pushed ECU's lead to four, 6-2, in the sixth inning. Moriarty's RBI single to left field pushed across Troy Stefanski cutting the lead to 6-3.
How It Happened (Game 2):
UCONN jumped out to an early 3-0 lead in the second game of the doubleheader and never looked back claiming the weekend series. With two outs in the third, five-straight Huskies reached base in John Toppa (single), Michael Woodworth (walk), Zac Susi (RBI single), Isaac Feldstein (RBI single) and Troy Stefanski (RBI single). ECU final scratched across a run in the fifth on Spencer Brickhouse's sac fly to left that scored Packard from third, who led off with a double and moved up 90 feet on a wild pitch. Woodworth's home run in the fifth pushed the Huskies lead back to three, 4-1. The Pirates got a late run in the ninth on Brady Lloyd's RBI ground out to cap the scoring in game two.
Pirate Pitchers (Game 1):
Alec Burleson (5-1) picked up the win allowing three runs (two earned) on six hits with a pair of walks and four strikeouts in five innings of work. Ryan Ross notched his team leading sixth save working a perfect ninth with a pair of punch outs. Trey Benton scattered three hits with a walk and a strikeout in three frames out of the bullpen.
Pirate Pitchers (Game 2):
Jake Agnos (4-3) took the loss giving up four runs (all earned) on seven hits with a pair of free passes and seven strikeouts in 4.2 innings. Davis Kirkpatrick closed out the fifth giving up a walk and striking out one before Zach Barnes tossed three perfect frames where he retired all nine batters he faced with a pair of punch outs.
Huskies Staff (Game 1):
Jeff Kersten (4-3) suffered the loss allowing six runs (all earned) on nine hits with a walk and six strikeouts in six innings. CJ Dandeneau walked three and fanned one over two frames, while Trevor Holmes gave up a hit, walked one and struck out one in an inning of relief.
Huskies Staff (Game 2):
Chase Gardner (4-2) picked up the series clinching win giving up a run (earned) on three hits with a career-high seven strikeouts in five frames. P.J. Poulin recorded his 15th save surrendering a run (earned) on one hit with a walk and two strikeouts in two innings. Tim Cate scattered four hits with one strikeout over his two innings of work out of the bullpen.
ECU Bats (Game 1):
The Pirates pounded out 10 hits improving to 22-2 when reaching the double-digit plateau. Lloyd and Packard each had three hits in the game, while four other tallied a base knock. Packard hit a pair of home runs and drove in three, Brickhouse plated a pair and Jake Washer had an RBI single in the first frame.
ECU Bats (Game 2):
The trio of Turner Brown, Andrew Henrickson and Packard each had a pair of base knocks. Brickhouse (sac fly) and Lloyd (ground out) drove in the Pirates lone runs, which scored Packard and Henrickson.
Things To Know:
Packard tallied multiple hits in both games pushing his hit streak to 32 games and on-base streak to 37 … During his streak, he has hit 13 home runs, 10 doubles, drove in 33, scored 37 times and is batting .459 (61-for-133) …
Williams-Sutton saw his on-base streak snapped at 19 games in the second contest of the day …
Brickhouse's on-base streak moved to 24 games after walking in the eighth inning of game two … In the first contest, he belted his 10th home run sending a shot down the right field line … On the day, he drove in three runs and scored twice …
Burleson, who entered the weekend rotation the weekend of April 20th, has registered wins in his last three AAC starts (Tulane, Cincinnati, UCONN) …
The series loss marked the first time this year the Pirates have lost a weekend series …
Up Next:
ECU will head down to Clearwater, Fla. to participate in the 2018 American Baseball Championships, which start on Tuesday, May 22. The Pirates opponent, date and game time has not been officially decided.