No. 7 ECU blanks Elon 3-0, improves to 25-7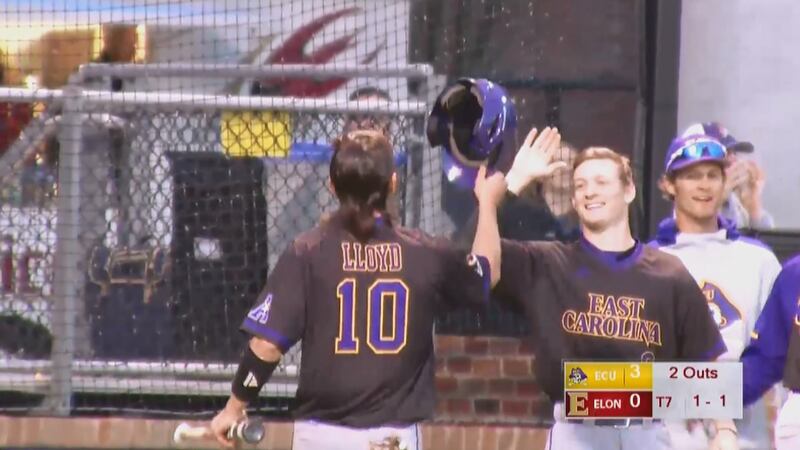 Published: Apr. 11, 2018 at 10:29 PM EDT
ELON, N.C. – Bryant Packard hit his seventh home run of the season, while the Pirates pitching staff combined for their sixth shutout of the year as No. 7 ECU defeated Elon 3-0 Wednesday night at Latham Park. With the win, the Pirates improve to 25-7 on the season while the Phoenix fall to 17-16.
How It Happened:
ECU wasted little time in getting on the scoreboard as Bryant Packard led off the game with a solo home on the game's first pitch for an early 1-0 lead. The Pirates added a pair of run in the seventh taking a 3-0 lead. Spencer Brickhouse and Jake Washer each had a two-out RBI single that scored Packard and Brady Lloyd.
Pirate Pitchers:
Jake Agnos (3-2) went four innings on a predetermined start allowing one hit with three strikeouts and six punch outs. Davis Kirkpatrick (2.0 IP, 1 H, 1 BB, 2 Ks), Ryan Ross (2.0 IP, 5 Ks) and Alec Burleson (1.0 IP, 3 Ks) helped preserve the shutout combining to strike out 10 batters. Burleson notched his fourth save of the season in relief.
Phoenix Staff:
Mason Daniels (0-1) worked two frames allowing one run (earned) on two hits with a pair of walks and one strikeout before turning the game over to the bullpen. Gavin Hellman (2.0 IP, 1 H, 2 BBs), Owen Lorenz (2.0 IP, 1 BB, 3 Ks), Brandon Justice (0.2 IP, 3 Hs, 2 Rs, 1 BB, 1 K), Dean McCarthy (2.0 IP, 1 H, 1 K) and Jared Wetherbee (0.1 IP, 1 K) all worked out of the bullpen.
ECU Bats:
Packard let the Pirates offensively going 3-for-5 with a home run and two runs scored. Washer was the only other player with multiple hits going 2-for-4 with an RBI and extended his hit streak to nine games. Brickhouse drove in a run with a single in the seventh, while Connor Litton also had a base knock. Dwanya Williams-Sutton drew two of ECU's six walks and swiped two bases.
Player-of-the-Game:
Packard continued his hot hitting belting his third home run in two games with a solo blast to start the game. He tallied his 12th multi-hit game of the season, team co-leader, while extending his hit streak to 10 games and on-base streak to 15 – both career-highs. In his last two games, he is 7-for-9 with three home runs and six RBI.
Up Next:
ECU will return home for a three-game American Athletic Conference series on Friday, April 13 when it hosts USF. First pitch of the weekend is scheduled for 6:30 p.m. (ET).