No. 23 South Florida completes series sweep of East Carolina 6-3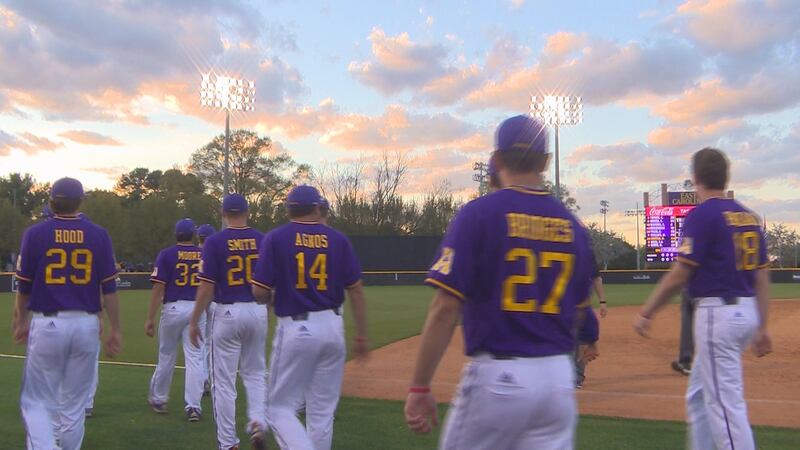 Published: May. 7, 2017 at 7:56 PM EDT
AMPA, Fla. – No. 24 USF scored five runs in the first inning and held on to complete the American Athletic Conference series sweep of East Carolina, 6-3, Sunday afternoon at the USF Baseball Stadium. With the win, the Bulls improve to 37-10 overall and 12-6 in league play while the Pirates fall to 24-24 and 4-14.
Peter Strzelecki (2-2) picked up the win allowing three runs (one earned) on three hits with 10 strikeouts and one walk in a career-high 8.1 innings. Andrew Perez notched his seventh save of the season working two-thirds of an innings with one hit.
Jake Agnos (2-3) took the loss surrendering six runs (all earned) on nine hits with seven strikeouts and two walks in 3.2 innings. Tyler Smith tossed 1.1 scoreless frames of relief with a walk and one strikeout before handing the ball over to West Covington, who has two scoreless frames with a pair of punch outs. Davis Kirkpatrick had a scoreless ninth with one strikeout.
Tyler Dietrich and Kevin Merrill each had three hits, while Dietrich and Coco Montes drove in a pair. USF out-hit ECU 13-4 on the afternoon.
Eric Tyler registered two of the Pirates four hits and extended his hit streak to 10 games and 34-straight reaching base with a single up the middle in the third inning. Dwayna Williams-Sutton belted his seventh home run of the season, a two-run shot to center field in the second inning. Travis Watkins accounted for the other ECU hit, and RBI single in the ninth inning.
How It Happened:
USF wasted little time in getting on the scoreboard as it plated five runs on six hits in the bottom of the first for a 5-0 lead. Joe Genord's RBI single scored Merrell for the first run and two batters later, Dietrch singled to right center scoring a pair before Montes roped a two-RBI single.
Williams-Sutton's seventh home run of the season pulled ECU within three, 5-2, in the top of the second inning. With two outs, Turner Brown reached on a strikeout and fielding error by Dietrich before coming home on Williams-Sutton's blast to center field.
Luke Borders drove in his first run of the weekend with a single in the fourth extending the Bulls lead to four, 6-2. Montes reached on a walk and took second Merrell's bunt single. Borders stepped up two batter's latter and drove an Agnos ball to right center easily plating Montes.
ECU scored a run in the ninth inning on Watkins RBI single that plated Eric Tyler from second pulling the Pirates within three, 6-3.
Up Next:
ECU returns to action on Wednesday, May 10 when it plays host to Duke at Lewis Field inside Clark-LeClair Stadium. First pitch is scheduled for 6:30 p.m. (ET).