Houston sweeps No. 7 ECU 6-5, wins eighth straight game against Pirates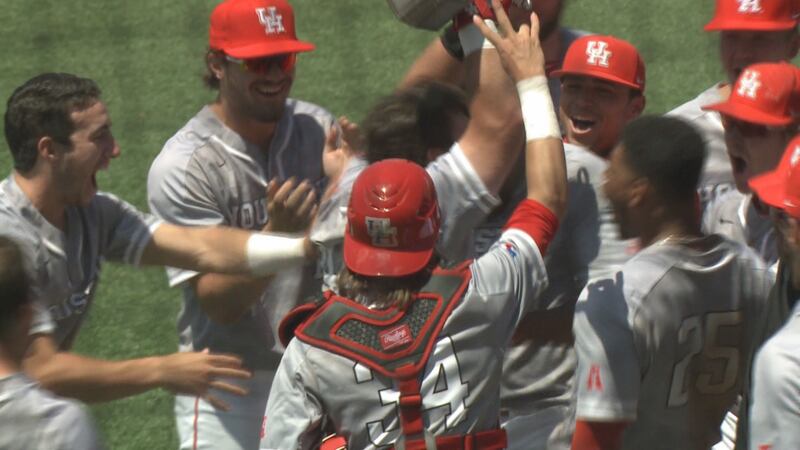 Published: Apr. 29, 2018 at 5:51 PM EDT
GREENVILLE, N.C. – No. 7 ECU scored three runs in the bottom of the ninth, but its rally came up short at Houston completed the American Athletic Conference sweep with a 6-5 win Sunday, April 29 at Lewis Field inside Clark-LeClair Stadium.
With the win the Cougars improve to 28-16 overall and 13-5 in AAC play, while the Pirates drop to 30-12 on the season and 8-7 in conference action.
How It Happened:
Trailing 6-2 going to the ninth inning, ECU plated three runs and had the tying run on second base when Spencer Brickhouse flew out to right field giving Houston its second consecutive sweep in the AAC. The Pirates drew three consecutive walks from Carter Henry before Bryant Packard doubled down the right field line scoring a pair and pulling ECU within two, 6-4. Jeremy Whitehead's sac fly to deep left field plated Chandler Jenkins making it a one-run game, 6-5, before Joey Pulido got Brickhouse to fly out ending the game. ECU jumped out to an early 2-0 lead in the fourth inning. Andrew Henrickson drove in the first run on an infield single and Alec Burleson's sac fly scored Jake Washer. The Cougars tied the game at two-all in the fifth thanks to a hitter batter, two Pirate errors, a walk and Connor Hollis' RBI single through the left side. Joe Davis' fourth home run of the season, a three-run blast to left field, highlighted a four-run seventh for Houston. Hollis plated the first run on a single to left and three batters later Davis cleared the bases capping the scoring for the Cougars.
Godwin's Take:
"The game today really wasn't close at all. I'm embarrassed the way we played today. I'm the head coach and it's my fault because they weren't ready to play. It's was an uninspired baseball game that I have been associated with here at East Carolina. But one thing I can promise is that we will play inspired baseball in New Orleans next Friday night. We didn't play bad Friday night, we just didn't win. Yesterday and today, I was embarrassed with the intent and energy that we came out with and again, that's my fault since I'm the head coach."
Pirate Pitchers:
Ryan Ross (0-3) suffered the loss allowing a pair of runs (both earned) on two hits in 1.1 innings of relief. Starter Tyler Smith gave up two runs (both earned) on three hits with two walks and two strikeouts in 4.2 frames before turning the game over to the bullpen. Including Ross, ECU used six arms in relief getting outings from Gavin Williams (0.2 IP, 1 H), Sam Lanier (0.0 IP, 1 H, 2 Rs), Matt Bridges (0.2 IP, 1 H, 1 BB), Zach Barnes (0.2 IP, 2 Ks) and West Covington (1.0 IP).
Cougars Staff:
Bryson Hurdsman (2-4) got the win in relief tossing 3.2 shutout frames where he gave up two hits, walked one and struck out a pair. Starter Ryan Randel gave up two runs (both earned) on two hits with three walks and three punch outs in four innings. Carter Henry was touched for three runs (all earned) on one hit with three walks and two strikeouts in two-thirds of an inning and Pulido notched his second save of the series recording the final two outs.
ECU Bats:
The Pirates managed just five hits getting one each from Brickhouse, Brown, Henrickson, Packard and Washer. Packard drove in two runs, while Burleson, Henrickson and Whitehead each had an RBI.
Things To Know:
Packard extended his hit streak to 20 games with his two-RBI double in the ninth – sixth longest in ECU history … He pushed his on-base streak to 25-straight games when he walked in the first inning … His two RBI gave him 10 multi-RBI games on the year, which leads the team …
Washer extended his on-base streak to 17 games with his single in the fifth …
Brickhouse's hit streak moved to seven games with a double in the eighth … He pushed his on-base streak to 12 games with a walk in the fourth stanza …
ECU dropped its second AAC series of the season (other: USF) and suffered its first loss in a Game 3 this year …
Houston pushed its win streak over the Pirates to eight games (four wins in 2017, three in 2018) …
Up Next:
ECU will return to the diamond on Friday, May 4 when it travels to Tulane for a three-game tilt. First pitch at Turchin Stadium is slated for 7:30 p.m. (ET).