Five New Members Elected To ECU Athletics Hall Of Fame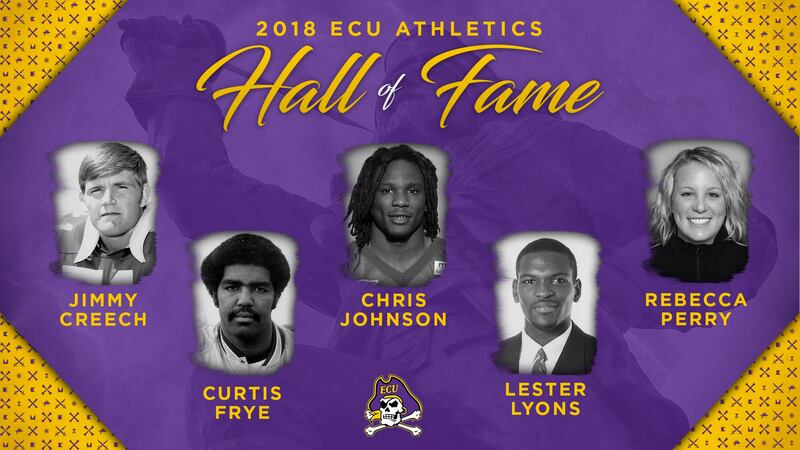 Published: Jul. 23, 2018 at 4:58 PM EDT
GREENVILLE, N.C. – (PHOTO: ECU ATHLETICS) Five exceptional individuals will be inducted into ECU Athletics Hall of Fame on Friday, Oct. 12, at the 41st annual installment ceremony inside Williams Arena at Minges Coliseum as part of the annual Hall of Fame/Letterwinners' Weekend.
The extraordinary class includes Jimmy Creech, a member of the Pirates' 1972 Southern Conference championship football team; Curtis Frye, the first African-American coach in school history; Chris Johnson, a 2007 first-team All-America selection and Conference USA Special Teams Player-of-the-Year; Lester Lyons, a member of the 1993 CAA Tournament championship men's basketball squad and ECU's second all-time leading scorer; and Rebecca Perry, a seven-time All-Conference USA swimmer and seven-time NCAA championship qualifier.
The inductees will be recognized publicly inside Dowdy-Ficklen Stadium as a part of the halftime festivities during the Oct. 13 football game against Houston.
Creech (1969-72) helped the Pirates compile a perfect 6-0 Southern Conference record in 1972 to win their second league title and was the recipient of the Swindell Memorial Award, which was given to the player that best embodied the slogan "Big Team – Little Me.". As a member of the freshman team in 1969, Creech was voted Most Outstanding Player before anchoring the Pirates' offensive line from 1970-72. He later served as Executive President of the Pirate Club from 2011 to 2013 after being on the ECU Board of Visitors from 2004 through 2008. Creech was a member of the ECU Foundation Board of Directors and the Advancement Council for the ECU College of Health and Human Performance.
Frye (1970-74), who was lured to ECU by Hall of Fame inductee Bill Carson, became the first African-American coach in school history in 1974 when he was hired to oversee the men's soccer program. He served as an assistant track coach simultaneously for five years (1974-79), helping the Pirates capture three Southern Conference championships. He has spent the past 22 seasons as the head coach at the University of South Carolina and has mentored over 60 NCAA champions, 119 SEC titlists, 17 Academic All-America student-athletes and more than 480 NCAA All-America selections. He is a member of the U.S. Track & Field and Cross Country Coaches Association (USTFCCCA) Hall of Fame.
Johnson (2004-07) exhausted his eligibility ranked third on the ECU all-time rushing list and first on the kickoff return (2,715) and all-purpose yards (6,993) charts. He led the Pirates to consecutive bowl appearances as a junior and senior and was voted MVP of the 2007 Sheraton Hawai'i Bowl as ECU defeated Boise State. As a senior he led the nation in all-purpose yardage with 227.7 yards per game and produced an ECU record 144 points. Johnson set program standards for receptions (125) and receiving yards (1,296) by a running back and authored a total of 18 school single-game, season and career records. He is one of only two ECU first round NFL Draft picks, taken 24th overall by the Tennessee Titans in 2008.
Lyons (1990-94) is the Pirates' leading scorer in its Division I era with 1,825 points in 112 career games. He led ECU to the 1993 CAA Tournament title as junior and was named the tournament MVP. A three-time all-conference performer and 1991 CAA Rookie-of-the-Year, Lyons remains the only player in program history to lead the team in scoring four consecutive seasons. A two-time member of the CAA All-Defensive Team, he also topped the Pirates in steals each of his four seasons, cumulating more than 200 career takeaways. Lyons graduated as ECU's all-time leader in field goals made, 3-point field goals made, free throws made and assists and is one of only three players in the team's annals with over 1,000 points, 300 rebounds and 300 assists in his career.
Perry (2005-08) was a three-year letterwinner for coach Rick Kobe's swimming and diving team. She set a total of 12 ECU varsity and Minges Natatorium records during her career and graduated as the program's record holder in seven events. She was voted the team's Most Outstanding Swimmer as a sophomore and senior. Perry was a seven-time All-Conference USA performer and nine-time championship finalist. She scored 142 points in a trio of C-USA Championship meets, leading ECU to a runner-up finish in 2006. Perry posted six NCAA B qualifying times during her three seasons as a Pirate and competed in the 50, 100, and 200-yard freestyle at the 2006 NCAA Championships.
The five new inductees will bring the total membership in the ECU Athletics Hall of Fame to 167. The original ECU Athletics Hall of Fame was initiated in 1974 as an organization to honor those individuals who have, by direct participation in ECU intercollegiate athletics, brought outstanding recognition to themselves and the University.
An interactive video listing and capsules of the entire Hall of Fame membership is located inside the lobby of the Smith-Williams Center, which opened in 2013. Photos of all Hall of Fame members are now on permanent display and the 2018 enshrined class will be added to the display for Hall of Fame Weekend, Oct. 12-13.