ECU's Watkins named semifinalist for Bench Award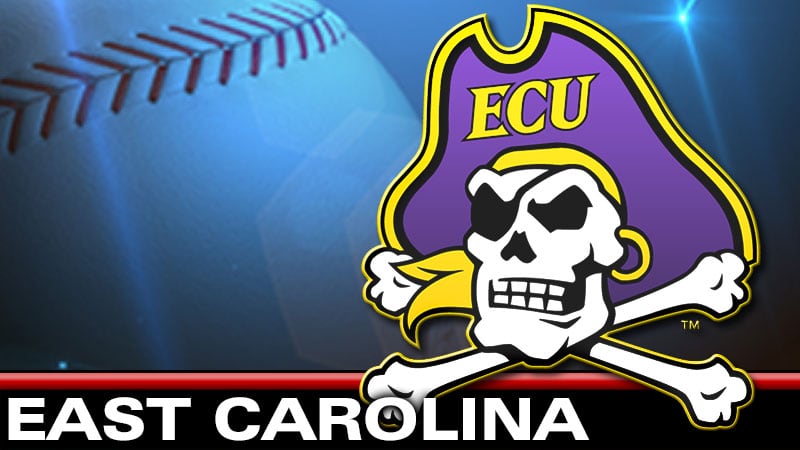 Published: May. 17, 2017 at 10:26 PM EDT
WICHITA, Kansas – East Carolina red-shirt senior Travis Watkins has been named one of 15 semifinalists for the 2017 Johnny Bench Award presented by BaseballSavings.com.
Watkins, the lone representative from the American Athletic Conference, is a three-time semifinalist for the nation's top collegiate catching award and joins former Pirates Jake Smith (2006 winner) and Corey Kemp (2007-08) semifinalist to make the list.
The Concord, N.C. native has caught all 53 games behind the plate throwing out 11 of 31 (35.5 percent) of would be base stealers, which ranks among the Top 20 nationally. At the plate, he is batting .329 with nine home runs, 42 RBI, 44 runs scores and has 23 multi-hit and 8 multi-RBI games.
He is a five-time Johnny Bench Award Watch List member and three-time semifinalist (2015-17) and is the fifth player in program history to be named to the initial watch list following Smith, Kemp, Jared Avchen (2010) and Zach Wright (2010-12). He is the lone Pirate catcher to appear on the watch list five times (2013-17) and the third with multiple selections.
The 2017 Johnny Bench Award presented by BaseballSavings.com semifinalists are (in alphabetical order):
Riley Adams, University of San Diego JR
David Banuelos, Long Beach State University JR
Joey Bart, Georgia Tech SO
Ben Breazeale, Wake Forest University SR
Brent Diaz, Louisiana Tech University JR
Troy Dixon, St. John's University SR
Grant Koch, University of Arkansas SO
Renae Martinez, University of Oklahoma SR
Adam McGinnis, Western Illinois University SR
Dominic Miroglio, University of San Francisco JR
Joey Morgan, University of Washington JR
Daulton Varsho, University of Wisconsin-Milwaukee JR
Travis Watkins, East Carolina University SR
Matt Whatley, Oral Roberts University JR
Hunter Wood, Western Kentucky University SR