ECU's Washer named to Bench Award Watch List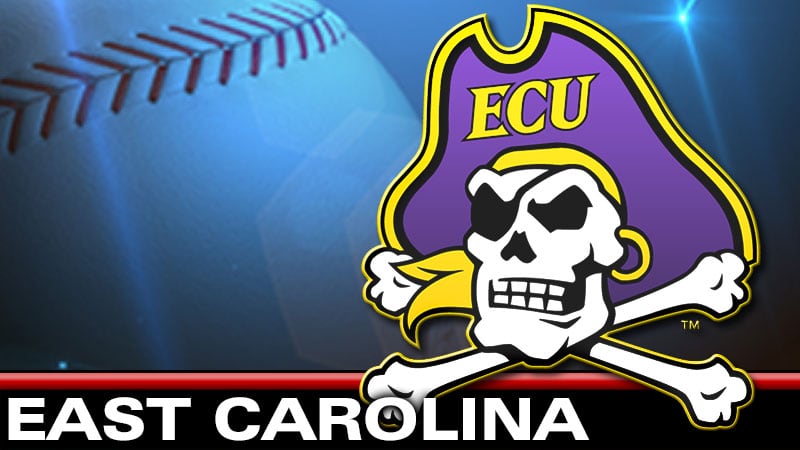 Published: Apr. 19, 2018 at 9:33 PM EDT
WICHITA, Kansas – ECU redshirt sophomore Jake Washer is one of 15 catchers added to the watch list for the 2018 Johnny Bench Award presented by BaseballSavings.com and the Greater Wichita Area Sports Commission. To date, 112 catchers have been nominated for the award.
The Bench Award, which is given annually to the top division one collegiate catcher, is a rolling list that will be updated to include other candidates until April 30, 2018.
Washer has caught 27 games behind the plate throwing out 11 of 25 (44.0 percent) of would be base stealers. At the plate, he is batting .358 (39-for-109) with five home runs, 30 RBI, 21 runs scores and has 10 multi-hit and a team-best nine multi-RBI games. Washer enters this weekend's series at Memphis riding a 12-game hit streak (second on the team behind Bryant Packard's' 14-game streak) where he is batting .400 (18-for-45) with three home runs, 15 RBI and nine runs scored.
The King, N.C. native is the sixth catcher in program history to be named to the watch list following Jake Smith (2006 winner), Corey Kemp (2007-08 semifinalist), Jared Avchen (2010), Zach Wright (2010-12) and Travis Watkins (2013-17/3-time semifinalist).
The watch list will be narrowed down to the semifinalists, whom will be announced May 16, 2018. Ballots will be sent to the national voting panel at the end of May for a vote to determine the three finalists. The finalists will be announced June 4, 2018. A final vote among the national committee will occur during the College World Series. All finalists will be brought to Wichita and the winner will be announced at the 21st Annual Greater Wichita Sports Banquet on June 28, 2018.