ECU's Brown on Biletnikoff watch list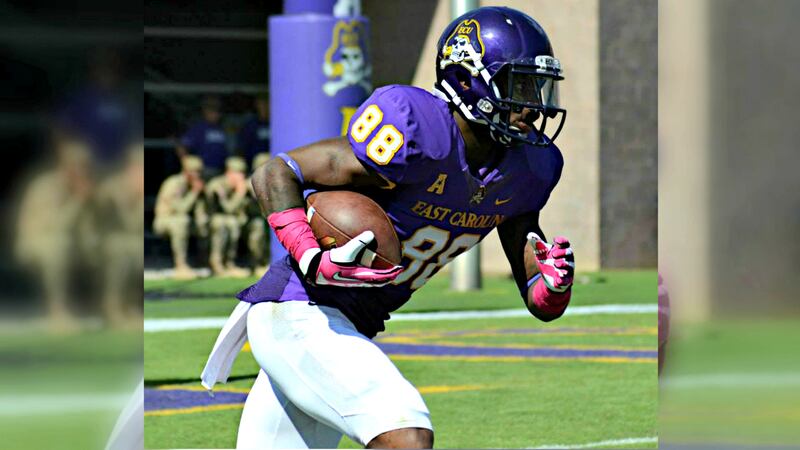 Published: Jul. 19, 2018 at 5:59 PM EDT
TALLAHASSEE, Fla. – ECU senior Trevon Brown is one of 50 FBS receivers named to the 2018 Biletnikoff Award Preseason Watch List according to an announcement by the Tallahassee Quarterback Club (TQC) Foundation, Inc., Thursday.
Since 2006, ECU receivers have been included on the Biletnikoff Award Watch List on 10 occasions. Brown's selection follows Jimmy Williams (2017), Zay Jones (2015-16), Justin Hardy (2012-14), Lance Lewis (2011), Dwayne Harris (2010) and Aundrae Allison (2006). Two years ago, Jones became the first Pirate to be named a finalist for the prestigious award.
The Biletnikoff Award, presented by the Tallahassee Quarterback Club (TQC) Foundation, annually recognizes the outstanding receiver, not merely a wide receiver, and the award recipient is selected by the highly distinguished Biletnikoff Award National Selection Committee, a group of over 200 prominent college football journalists, commentators and former receivers. Receivers may be added to the watch list as their season performances dictate. Ten semifinalists will be announced Nov. 12 before three finalists are declared Nov. 20. The 2018 winner will be presented live on The Home Depot College Football Awards Show, which will be aired Dec. 6 on ESPN.
As a junior in 2017, Brown became the ninth Pirate in school history to eclipse the single-season 1,000 receiving yards milestone after grabbing 60 passes for 1,069 yards. In addition to leading the club in receptions and receiving yards, Brown also stood first in touchdowns (seven), yards per catch (17.8), receiving yards per game (89.1), kick return yards (452), all-purpose yards (1,539) and all-purpose yards per game (128.2) on his way to Second-Team All-American Athletic Conference honors.
The Wilmington, N.C. native set an ECU and AAC single-game record with 270 receiving yards against Cincinnati on Nov. 18, 2017. He also scored on a pair of 95-yard receptions (West Virginia, Cincinnati), which marked the longest catches in school and conference history. Brown, who registered five 100-yard receiving games and amassed 100 or more all-purpose yards in a contest six times, stands eighth on ECU's single-season receiving charts and closed out the regular season ranked among the NCAA FBS leaders in receiving yards (14th), receiving yards per game (17th), all-purpose yards per game (29th) and yards per reception (34th).
For his career, Brown has played in 29 games, catching 115 passes for 1,829 yards (15.9 ypr) with 15 touchdowns. He has produced 23 multiple-catch contests, authored six career 100-yard receiving games, surpassed 100-plus all-purpose yards on nine occasions and has 67 receptions of 10 or more yards. A 2018 First-Team Preseason All-AAC selection by both Athlon and Phil Steele's College Football Preview Magazine, Brown currently stands fifth in reception yards and seventh in TD grabs on ECU's career list(s) and needs only 15 receptions to earn inclusion on the program's Top 10 ledger.
Brown is the second Pirate to be named to a preseason watch list this season, joining defensive tackle Alex Turner (AFCA Good Works Team®).