ECU walks off against Elon, 2-1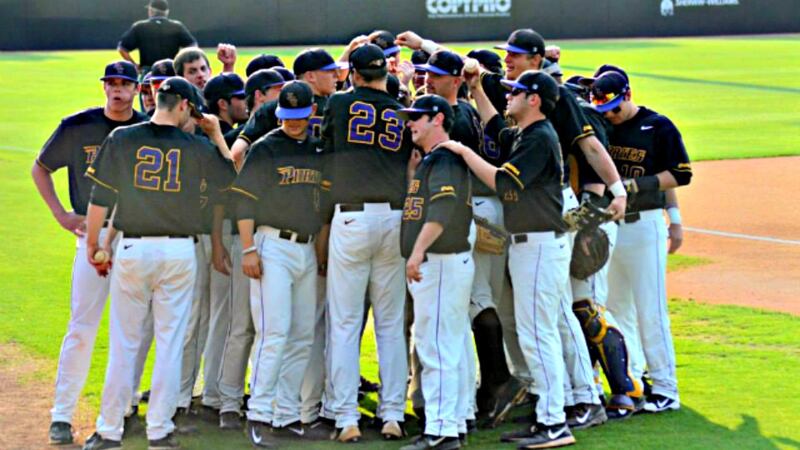 Published: Mar. 14, 2018 at 8:32 PM EDT
GREENVILLE, N.C. – Andrew Henrickson's sac fly to left field scored Dwanya Williams-Sutton from third helping No. 17 ECU to a 2-1 walk-off win over in-state foe Elon Wednesday afternoon at Lewis Field inside Clark-LeClair Stadium. With the win the Pirates improve to 13-4 on the season while the Phoenix fall to 8-9.
How It Happened:
In a one-all game and one out in the bottom of the ninth, Henrickson lifted a 3-2 offering from Jared Wetherbee to left field allowing Williams-Sutton to score from third for the Pirates first walk-off win of the season. Jake Washer doubled down the right field line to start the frame and was immediately lifted for Williams-Sutton as a pinch runner. Brady Lloyd dropped down a sac bunt towards first allowing Williams-Sutton to move up 90-feet setting up Henrickson's heroics. Elon wasted little time in getting on the board pushing across a run in the first frame. Matt Oldham doubled to right with one out and crossed home on Ryne Ogren's base hit back up the middle for a 1-0 lead. ECU knotted the game at one-all in the sixth on Brady Lloyd's RBI single. Connor Litton reached on an infield single, took second on a passed ball and third on when he tagged up on Jake Washer's fly ball to center before strolling home on Lloyd's shot through the left side.
Godwin's Take:
"Really proud of the guys today in showing a lot of toughness. With the wind blowing in and cold temperatures they could have packed it in, but they didn't. The bullpen was unbelievable today from Matt Bridges to (West) Covington to Sam Lanier and Davis (Kirkpatrick) just to give us a chance. If we would have gotten down two or three runs, I don't think we would have had any chance to come back and win."
Pirate Pitchers:
Kirkpatrick (1-0) picked up the win tossing three scoreless frames surrendering a pair of hits and striking out one for his first win of the season. Starter Jake Kuchmaner lasted just 1.2 innings allowing one run (earned) on four hits with a pair of walks and two strikeouts. The Pirates used three arms to bridge the gap in Bridges (2.1 IP, 2 Ks), Covington (1.0 IP, 2 BBs) and Lanier (1.0 IP, 1 K).
Phoenix Staff:
Robbie Welhaf (1-2) took the loss giving up one run (earned) on one hit with a walk and one punch out in 2.2 innings of relief work. Starter Ryan Conroy allowed one run (unearned) on three hits with a walk and seven strikeouts, while Wetherbee worked one-third of a frame.
ECU's Bats:
The Pirates managed just four hits on the cold afternoon getting a pair from Washer and one from both Litton and Lloyd. Litton and Williams-Sutton scored the two Pirate runs, while Henrickson and Lloyd were credited with RBI.
Co-Players of the Game:
Kirkpatrick entered the game to start the seventh and retired eight of 10 batters faced. The righty allowed a two-out double in the seventh before getting a ground out to end the stanza. In the eighth, he got Hayden Platt to ground into a 6-4-3 double play to complete that frame and retired the side in order in the ninth. Henrickson registered his second career game-winning RBI with the sac fly to left field, his first career walk-off RBI. He pinch-hit for Chandler Jenkins in the sixth flying out to left before his game-winning swing.
Things To Know:
The win was the first walk-off for the Pirates this season …
ECU improved to 3-1 in one-run games on the year …
Washer extended his on-base streak to 10 games with a single to right field in the fourth ... Also, tallied his team-leading seventh multi-RBI game of the year …
Lloyd recorded a hit in his fourth-straight game with an RBI single through the left side in the sixth …
Up Next:
ECU returns to the diamond on Friday, March 16 when it host Maryland for a three-game weekend tilt. First pitch is slated for 6:30 p.m. (ET).