ECU baseball picked as AAC preseason favorite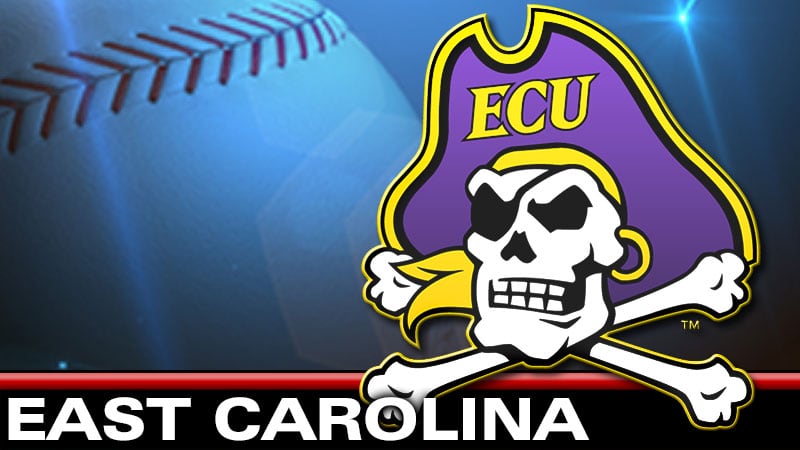 Published: Dec. 27, 2018 at 2:53 PM EST
PROVIDENCE, R.I. – After hosting just its second on-campus Regional in program history in 2018, ECU has been picked first in the 2019 American Athletic Conference preseason poll as chosen by the league's nine head coaches. The Pirates, who claimed the 2018 AAC Tournament title, picked up six of eight first place votes.
Junior Bryant Packard has been named preseason player-of-the-year, while fellow classmates Jake Agnos, Tyler Smith and Jake Washer were also chosen to the all-conference team.
Packard, who became the first player in program history to earn inclusion to seven All-America teams in the same season a year ago, led the Pirates in seven offensive categories including batting average (.406), ranking sixth nationally. He also stood first in the American Athletic Conference in hits (89), slugging percentage (.671) and total bases (147), while ranking among the league leaders (Top 10) in on-base percentage (.462/third), home runs (14/t3rd), runs (51/sixth) and RBI (50/t8th) on his way to AAC Player-of-the-Year accolades.
The Greenville, N.C. native set the program record for consecutive games with a hit (30), breaking Stephen Batt's 11-year old mark with a single in the fifth inning at Connecticut on May 17, 2018. His streak came to an end (32 games) during the first round of the AAC Championships vs. UCF. A semifinalist for the Dick Howser Trophy, Packard became the 16th player in school history to win the hitting triple crown and first since John Wooten in 2012. He capped off his 2018 season by earning a roster spot on the Collegiate National Team helping Team USA to a 12-3 record over the summer.
Agnos, who also played to Team USA over the summer, posted a 4-4 record with one save and a 4.10 ERA on the mound. The lefty struck out a team-high 86 batters in 22 appearances (14 starts) while walking 38. He allowed 32 runs (29 earned) on 61 hits in 63.2 innings and held opposing hitters to a composite .258 average. Agnos earned 2018 All-AAC Tournament accolades after tossing four shutout frames against Connecticut in the title game where he set a tournament record with nine strikeouts.
Smith, a second-team all-conference selection last year, sported a 7-1 record with one save and a 1.78 ERA. The right-hander appeared in 14 games (nine starts) where he combined on a pair of shutouts and held opposing hitters to a .218 average. He struck out 34 batters while walking just 12 in 60.2 innings and allowed 14 runs (12 earned) on 47 hits.
In his first full season behind the plate, Washer started 55 of 58 games batting .287 (58-for-202) with six home runs, 40 RBI and 32 runs scored. The red-shirt junior slugged .436 to rank fourth on the team in 2018 while drawing 32 walks, lacing 10 doubles and one triple. He sported a .995 fielding percentage, threw out 12 would be base stealers and turned a pair of double plays.
On Dec. 18, the Pirates garnered their first preseason national ranking of the 2019 season after being tabbed No. 35 by Collegiate Baseball. A year ago, ECU (44-18) finished ranked in the Top 30 in five major polls (Perfect Game/ No. 21, Baseball America/ No. 23, NCBWA/ No. 23, USA Today/ No. 23 and Collegiate Baseball/ No. 29) marking the second time in three year ECU had finished ranked in four or more polls (other was 2016).
Under direction of fifth-year head coach Cliff Godwin, the Pirates return 23 letterwinners, including USA Collegiate National Team members Agnos and Packard, Freshman All-America selections Spencer Brickhouse (2017) and Alec Burleson (2018) as well as 2018 AAC All-Tournament honorees Turner Brown and Jake Kuchmaner. In all, the roster consists of nine freshmen, six sophomores, 10 juniors and seven seniors.
Also stepping onto the diamond are 10 newcomers, which features five position players, three pitchers and a pair of two-way players. The 2018-19 recruiting class consists of two infielders (Thomas Francisco and Ryder Giles), three outfielders (Lane Hoover, Christian Jayne and Christian Smallwood), a pair of two-way players (Connor Norby and Stephen Wilmer) and three pitchers (Evan Odum, Garrett Saylor and Carter Spivey).
The Pirates, who are set to open their 85th season of intercollegiate baseball on Feb. 15 at home against Radford, won the 1961 NAIA National Championship, have claimed 25 conference titles (13 regular season/12 tournament), made 29 NCAA Regionals and advanced to four Super Regionals (2001, 2004, 2009 and 2016).
Season tickets are officially on sale with packages starting as low as $120. Pirate fans have seven different options to choose from and can purchase their 2018 tickets by utilizing ECU's Online Ticket Center (http://bit.ly/2gJlK0Y) or by contacting the ECU Athletic Ticket Office at (252) 737-4500.
Ticket Options
Chair Back with Seat Rights – $200
Chair Back Upgrade (must have Pirate Club approval) – $400
Regular Reserved Bench – $20
Faculty/Staff Reserved Bench – $160
Senior Citizen Reserved Bench – $160
Young Grad Reserved Bench – $120
Economy Plan (Section 201/202 & Jungle) – $120
Godwin and the Pirates return to the diamond in mid-January for individual workouts before turning in their first team practice on Jan. 25th
2019 American Athletic Conference Preseason Poll and Awards
(as selected by The American head coaches)
PRESEASON POLL
ECU (6) – 60 points
Houston (2) – 55
Connecticut (1) – 52
UCF – 44
USF – 35
Tulane – 30
Wichita State – 23
Cincinnati – 16
Memphis - 9
(First-place votes in parentheses)
2019 PRESEASON ALL-CONFERENCE TEAM
Pos. – Name (School)
P – Chris Williams* - UCF
P – Mason Feole* - Connecticut
P – Jake Agnos - ECU
P – Tyler Smith - ECU
RP – Jake Wallace - Connecticut
C – Jake Washer - ECU
1B – Joe Genord - USF
2B – Luke Ritter - Wichita State
SS – Anthony Prato* - Connecticut
3B – Jared Triolo* - Houston
OF – Ray Alejo - UCF
OF – Bryant Packard - ECU
OF – Kyle Phillips - USF
DH – Joe Davis* - Houston
PRESEASON PLAYER-OF-THE-YEAR
OF – Bryant Packard - ECU
PRESEASON PITCHER-OF-THE-YEAR
LHP – Mason Feole* - Connecticut
(* unanimous selection)