Cincinnati edges No. 10 ECU 4-3 in series opener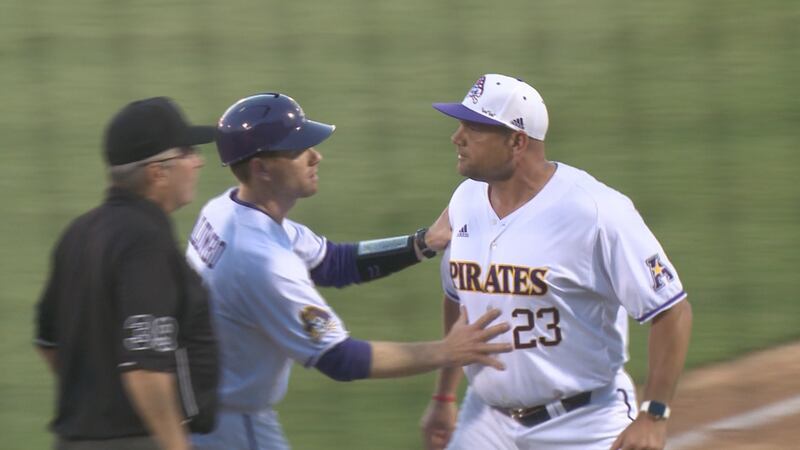 Published: May. 11, 2018 at 11:20 PM EDT
GREENVILLE, N.C. – Connor McVey and Manny Rodriguez hit back-to-back home runs in the ninth lifting Cincinnati to a 4-3 American Athletic Conference series opening win at No. 10 ECU Friday night at Lewis Field inside Clark-LeClair Stadium.
With the win the Bearcats improve to 26-22 overall and 11-8 in league play while the Pirates fall to 35-13 on the year and 11-8 in conference action.
How It Happened:
Trailing 3-2 in the ninth inning with one away, Cincinnati's McVey (left field) and Rodriguez (right-center) blasted consecutive home runs to give the Bearcats its first lead of the game, 4-3. ECU jumped out to an early 2-0 lead in the first frame thanks to Dwanya Williams-Sutton's fifth home run of the season. Bryant Packard singled through the left side to start the game and came around on Williams-Sutton's two-run shot to right-center. Treg Haberkorn's solo blast down the right field line pulled Cincinnati within one, 2-1, in the second inning. The Bearcats tied the game at two-all in the fifth on AJ Bumpass's single through the right side that plated Kyle Mottice from third. ECU regained the lead in the eighth on Turner Brown's double to right-center, 3-2. Jeremy Whitehead reached on a bunt single, took second on Clayton Colvin passed ball before darting home on Brown's second double of the season
Pirate Pitchers:
Ryan Ross (1-4) suffered the loss allowing two runs (both earned) on three hits with a walk and two strikeouts in two innings of relief. Starter Chris Holba gave up two runs (both earned) on nine hits with a strikeout in six-plus innings. Davis Kirkpatrick (0.1 IP, 1 K) and Trey Benton (0.2 IP) both experienced action out of the bullpen.
Bearcats Staff:
Colvin (2-3) picked up the win in relief surrendering a run (earned) on two hits with a walk and one strikeout in one inning of work. Jarod Yoakam notched his fifth save pitching a perfect ninth inning. Starter JT Perez went five innings allowing two runs (both earned) on four hits with a pair of walks and four punch outs. AJ Kullman worked two innings of relief giving up three hits, while walking and striking out one.
ECU Bats:
Connor Litton and Brady Lloyd led the Pirates nine-hit attack with two base knocks each. Williams-Sutton drove in two of the Pirates three runs, while Brown had the other RBI. Packard, Jake Washer and Whitehead also had base hits for ECU in the contest.
Things To Know:
Packard pushed his hit streak to 26 games (third longest in Pirate history) with a leadoff single in the first frame, which also extended his on-base streak to 31 games …
Williams-Sutton extended his hit streak to six games on his two-run homer in the first … Tallied his fourth multi-RBI game of the season while pushing his on-base streak to 14 games … Has hit four home runs in last five games ...
Brickhouse extended his on-base streak to 18 games when he was hit by a Perez pitch in the first inning …
Holba tallied his team-leading eighth quality start …
Kirkpatrick dropped his ERA to a club-best 0.98 on the season after registering his 24th strikeout of the year …
With the loss, ECU's five-game win streak comes to an end … The Pirates have now dropped six-straight AAC games at home dating back to April 14 (vs. USF) …
Up Next:
ECU will look to even the weekend series against Cincinnati when the two teams meet Saturday, May 12. First pitch is scheduled for 4 p.m. (ET).