CONFERENCE CHAMPS! No. 8 ECU Baseball defeats Wichita State, 6-1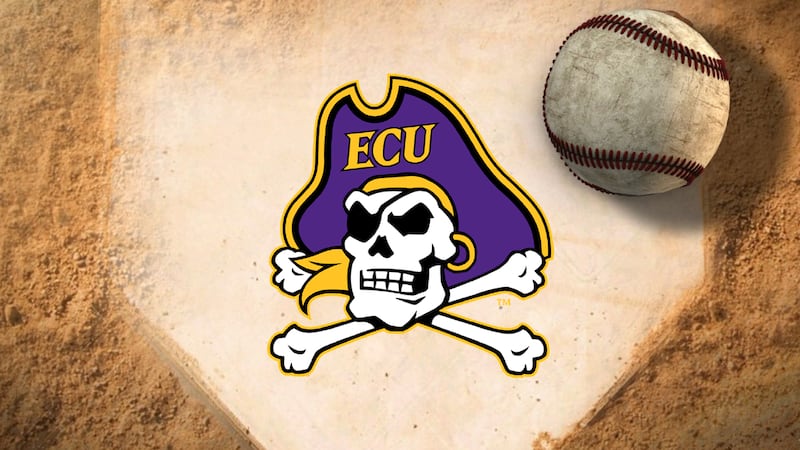 Published: May. 10, 2019 at 11:57 PM EDT
Jake Agnos tossed seven shutout innings, while Alec Burleson drove in four runs helping No. 8 ECU to a 6-1 win over Wichita State Friday night at Eck Stadium. With the win, the Pirates clinch the American Athletic Conference regular season title and improved to 38-11 overall (17-2 AAC) and the Shockers drop to 22-27 (6-13 AAC).
Eyeing its first regular season title since 2009 (Conference USA), ECU didn't waste any time as they plated a pair of runs in second inning taking a 2-0 lead. Jake Washer started the frame with a walk, Brady Lloyd singled and Dusty Baker drew another work to load the bases for Burleson, who poked a two-out single through the left side scoring Washer and Lloyd.
Agnos (8-2) earned the win after working seven scoreless innings where he extended his streak to 26.0 innings without allowing a run. The lefty gave up four hits, walked five and punched out six which pushed his strikeout total to 114 on the season – six away from setting the school record. Ryder Giles worked the final two frames surrendering one run (unearned) on one hits with a walk and three strikeouts.
Liam Eddy (4-7) suffered the loss giving up five runs (all earned) on 10 hits with two walks and three punch outs in six innings. Ryan Stuempfig allowed a run (earned) on one hit in two frames, while Jacob Lindemann worked a scoreless ninth with a strikeout.
Turner Brown's RBI single in the fifth extended the Pirates lead to 3-0. Spencer Brickhouse extended his on-base streak to a team-best 29 games with a two-out double and rumbled home on Brown's base hit to center.
The Pirates added two more runs in the sixth pushing its lead to five, 5-0. Dusty Baker doubled to right-center with one out (his second on the night) and moved to third on Lloyd's base hit to right field. On a double steal, Lloyd took second and, on the throw, down, Baker swiped up for the first run of the stanza. After a Nick Barber ground out that moved Lloyd to third, Burleson followed with an RBI single through the right side.
Burleson's fourth RBI of the night in the eighth capped the scoring for the Pirates on the championship night. Lloyd reached for the third time on the night when he was hit by a pitch then stole second to move into scoring position. Barber's sac bunt advanced Lloyd to third and Burleson lifted a 3-2 count from Stuempfig to left field easily allowing Lloyd to cross home.
The Shockers scored a run in the ninth avoiding a shutout when Ross Cadena scored on a throwing error.
ECU out-hit Wichita State 12 to 5 in the game and improved to 25-1 when registering double-digit base knocks. Burleson led four Pirates with multiple hits going 3-for-4 with four RBI. Baker, Brown and Lloyd all recorded two hits, while Lloyd scored a game-high three runs.
The two clubs will continue the three-game series Saturday, May 11 with a 3 p.m. (ET) scheduled first pitch.