Agnos sets records as ECU tops Memphis, 19-10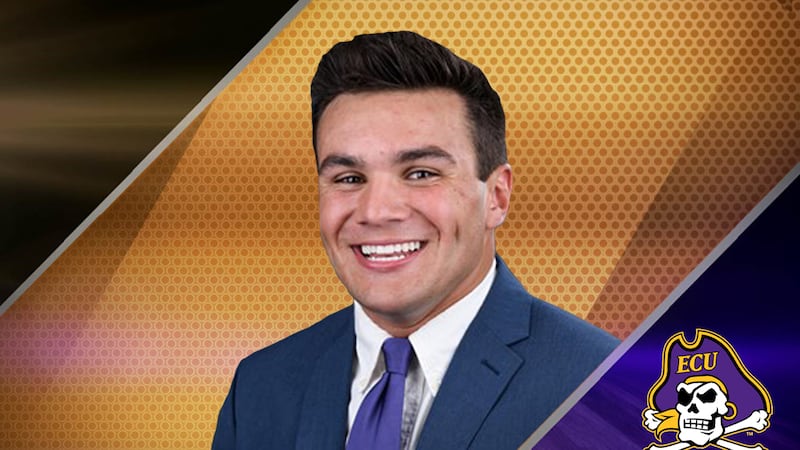 Published: May. 16, 2019 at 11:38 PM EDT
Jake Agnos struck out 10 batters over five scoreless innings setting the ECU and American Athletic Conference single-season records for strikeouts in No. 6 ECU's 19-10 win over Memphis Thursday night at Lewis Field inside Clark-LeClair Stadium.
With the win the Pirates improve to 41-12 on the season and 19-3 in league play, while the Tigers fall to 26-25 overall and 9-12 in AAC action. ECU's win also ties The American mark for single-season wins in league play (19) which was originally set by the Louisville Cardinals in 2014.
The Pirates wasted little time in putting up some runs as they scored four in the first frame taking an early 4-0 lead and cruised after that. After consecutive walks to Bryant Packard and Brady Lloyd, Spencer Brickhouse loaded the bases with an infield single. Turner Brown singled to left field plating Packard and Lloyd and after Alec Burleson's sac bunt moved both runners up 90-feet, Jake Washer cleared the bases with a two-run single to center.
Agnos (9-2) earned the win and extended his consecutive scoreless inning streak to 30.0 innings. The lefty allowed three hits, walked three and fanned double-digit batters in a game for the fifth time this season. He had at least one strikeout in all five frames, multiple three times and struck out the side in the second and third innings. He set the ECU record when his punch out in the third inning of Payton Marshall and the AAC mark came in the fourth when he sat down Nick Vaage looking. The Pirates used four arms out of the bullpen getting outings from Garrett Saylor (1.0 IP, 4 Hs, 2 Rs, 1 K), Carter Spivey (0.1 IP, 3 Rs, 3 BBs, 1 K), Cam Colmore (0.0 IP, 3 Hs, 3 Rs, 1 BB) and Zach Barnes (2.2 IP, 3 Hs, 2 Rs, 1 K).
Danny Denz (2-3) took the loss after allowing six runs (all earned) on five hits with four walk in 2.1 innings. Bailey Wimberley didn't fare any better as he was touched for 11 runs (nine earned) on six hits while issuing five free passes and striking out one in 2.2 innings. Grayson Kemp gave up two runs (both earned) on four hits with a walk in three innings to close out the contest.
The Pirates broke the game wide open in the third plating nine run on four hits for a 13-0 advantage. Jake Washer started the frame with a solo blast, his 10th, to right field. Packard drove in a run with an RBI double and two batters later Brickhouse reached on an error with the bases juiced that scored Bryson Worrell. The inning continued when Brown was hit by a pitch that pushed across Packard then Burleson drove in two more runs on a single through the right side. Thomas Francisco plated two runs with a shot through the right side and Worrell's sac fly to left allowed Washer to tag up for the final run in the stanza.
Four more runs in the fifth for the Pirates pushed the lead to 17-0. Ryder Giles doubled home Washer with a gapper to right-center and Connor Norby blasted his first career home run with a three-run shot to left field.
Memphis finally got on the board in the sixth scoring a pair of runs making it a 17-2 ball game. Consecutive doubles by Marshall and Cale Hennemann accounted for the first run and Ben Brooks single pushed across Hennemann.
The Tigers scored six runs in the seventh and two more in the eighth pulling within seven, 17-10. But the Pirates responded in the home half of the eighth with plating two runs on Washer's RBI double and Chandler Jenkins' solo home run to cap the scoring at 19-10.
ECU banged out 15 hits and improved to 26-1 when reaching double-digit base knocks. Washer led four Pirates with multiple hits going 3-for-4 with four RBI and scored three runs. Brown, Burleson and Francisco each tallied a pair of hits, while six others joined in with at base knock. Joining Washer with multiple RBI on the night were Brown (three), Burleson (two), Francisco (two) and Norby (three).
Memphis registered 13 hits in the contest with Brooks and Marshall both collecting three apiece. Marshall drove in four runs, while Hennemann had three RBI and Brooks two.
ECU and Memphis will return to action Friday, May 17 for game two of the three-game weekend series with a first pitch slated for 6:30 p.m. (ET). Prior to the game, ECU administration will recognize the 2019 Pirate Baseball graduates as well as the senior class starting promptly at 6:15 p.m.