West Craven High School rolls out new breakfast program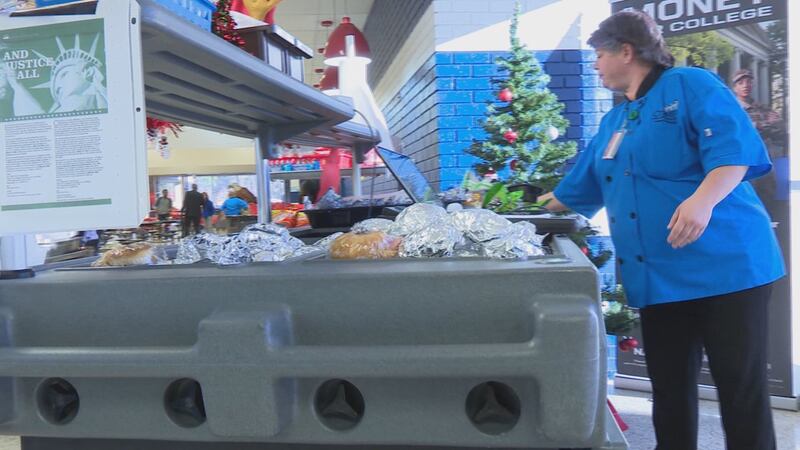 Published: Dec. 17, 2018 at 9:28 PM EST
West Craven High School is changing the way they serve students meals and have seen more participation as a result.
Breakfast after the bell, as it's called, is the new way students at the high school are getting the most important meal of the day.
Lauren Weyand, Craven County Nutrition Director says, "At most schools we have what we consider a traditional breakfast and what that is students are allowed to go through the lines and pick up their breakfast."
But to do that, kids have to arrive at school pretty early.
Principal Tarbari Wallace says, "Our children we're getting here at 6:30 some at 6:15 to get that breakfast in, okay that's a long day, from 6:00 to 2:30 in the afternoon and if you add athletics you're here til 5:00 p.m. and that's too long."
So now students have 15 minutes to eat after their first period class and Wallace says this innovative way using kiosks to feed kids is having a big impact.
Wallace says, "A child whose needs have been met, especially with hunger, can concentrate in class and participate in class, and their focus is on the teacher not looking at the clock waiting for 12 o'clock because they're so hungry."
The change has increased the number of students eating breakfast from 44 a day to more than 500.
The high school has also rolled out the kiosks used for breakfast at lunch for what they call power hour.
Wallace says, "We feed half of the kids at a time, but our kids are afforded the opportunity if they have good grades in class and conduct, to have an hour for lunch, unheard of in the state of North Carolina. We trust our kids with an hour for lunch because then they reciprocate and they try extra hard and they are more focused in class because we've taken care of that socialization."
Kids who don't meet the grade requirements still have a half hour for lunch while the other half hour is spent getting remediation time in their classes.
County and state leaders have visited West Craven to see how the program works and they are hoping to roll this out into other schools. Two more Craven County schools will be trying it out starting in January.