Rally held to protest 49,000 vacancies at Veterans Affairs nationwide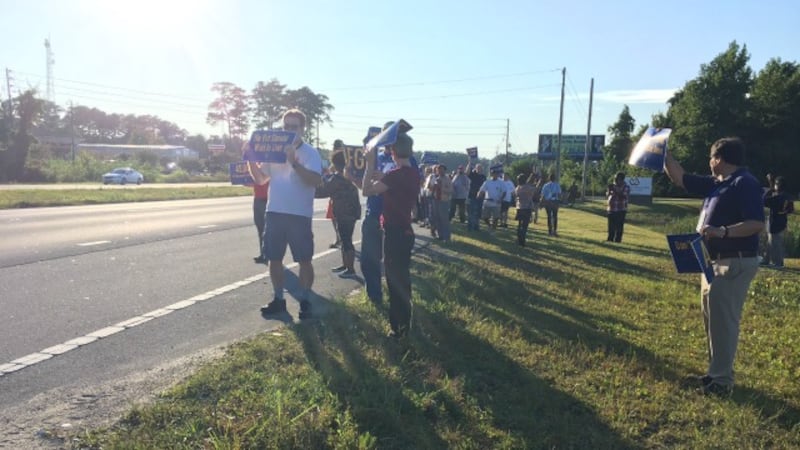 Published: Sep. 13, 2017 at 10:33 PM EDT
A rally was held in Eastern Carolina Wednesday, saying care to veterans is being impacted by the more than 49,000 vacancies within Veterans Affairs nationwide.
Crowding the shoulder of U.S. 70, outside of the Morehead City Community Based Outpatient Clinic, more than 75 VA employees, veterans, and concerned citizens from the community gathered together to demand action that would fill each of the vacancies.
"There's not enough doctors or enough personnel specialists to see them," says Essie Hogue, the president of American Federation of Government Employees Local 1738. "If we filled all of these, we'd be better equipped to take care of those veterans."
AFGE says they believe that current staffing levels are creating risks to patient safety and a hazardous work environment to people who are employed by the VA.
"If the staffing is short, when the next shift comes on, if there not enogh staff, then those people are forced to work mandatory overtime," explains Deborah Dantzler, a VA employee. "So it really effects things. "
The AFGE says that Congress is to blame for the issue of under staffing throughout these VA facilities. They say Congress has been outsourcing jobs to the private secotor and has not been allocating proper funding that would help fill these positions faster.
Jonathan Forte, who is the acting administrator for the Greenville VA Health Care Center and the Morehead City Outpatient Clinic, says the VA is supportive of it's employees and their union.
"AFGE represents the majority of our employees in the VA here locally in eastern North Carolina and part of our core values as an agency is advocacy," he explains. "And that's not only advocacy for our veterans, but also advocacy for our staff."
The AFGE says that their ultimate goal with this rally would be to see action from Congress, filling all vacancies nationwide as soon as possible.
While the rally took place infront of the VA facility in Morehead City, that facility is not currently understaffed. It was held there because it is a central meeting point for AFGE members.