UPDATE: Owner finds, thanks men who she says saved her dog from attack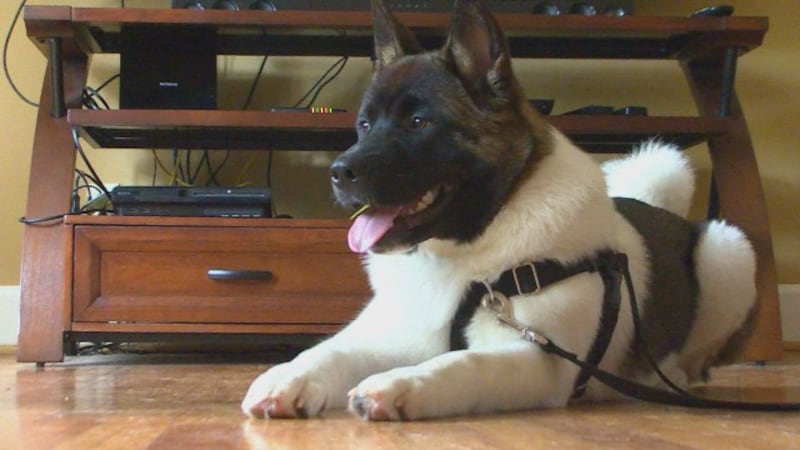 Published: Jun. 16, 2016 at 8:11 PM EDT
A woman who was searching for the two strangers that helped save her dog has now found the men and has been able to thank them.
It was a story we first told you about on Thursday where a man named Mike and a UPS driver came to the rescue when Jacqueline Patrick-Rueff says three dogs attacked her dog, Kona.
Mike Rees of Washington says he was with his wife and granddaughter at the Great Harvest Bread Company in Greenville Wednesday afternoon when he heard Patrick-Rueff screaming across the street and saw Kona being thrown around by the pit bull.
He says he ran across Evans Street to the front yard. He ways the pit bull ran off and he checked Kona to make sure she didn't have any deep wounds.
Rees says he stayed with Patrick-Rueff, who was understandably shaken up, when the police came to talk to her, something Rees says anyone else would've done.
"I wasn't thinking," Rees says. "I just saw, reacted, ran, you know. Just was gonna to do what I had to do."
Rees says he does plans to stop by Patrick-Rueff's house on Saturday to make sure she's okay.
Patrick-Rueff says the UPS driver stopped by her house Friday afternoon, so she got a chance to thank him in person as well.
PREVIOUS STORY:
A Greenville woman says her 7-month-old puppy was attacked by three dogs Wednesday afternoon and now she wants your help in finding the two good Samaritans who helped save her dog so that she can thank them.
The dog's owner, Jacqueline Patrick-Rueff, says a pit bull and two other dogs attacked her dog, Kona, while they were in the yard. Her next-door neighbor, a nearby UPS driver, and a man named Mike ran to her house and helped get the pit bull off of Kona as it was biting Kona's neck.
Kona suffered injuries to his neck and hind legs, but is expected to be okay, something Patrick-Rueff says wouldn't have happened if it weren't for the UPS driver and Mike.
"If these people had not stopped and, in my opinion, risked their lives, the pit bull would have killed my dog and gone after me," she says.
Kona is training to be Patrick-Rueff's service dog, so she says she is especially grateful for the two men's help.
She says the man named Mike left his wife and child at the Good Harvest Bread Company and sprinted across Evans St. to help her and Kona out in her front yard.
The Greenville Police Department says the pit bull suffered injuries in the attack and was later euthanized. The owner of the pit bull and one of the other dogs was cited for two leash law violations and has been cooperating. Officers are working to identify the third dog in the attack.