Beach goers concerned following shark bite at Atlantic Beach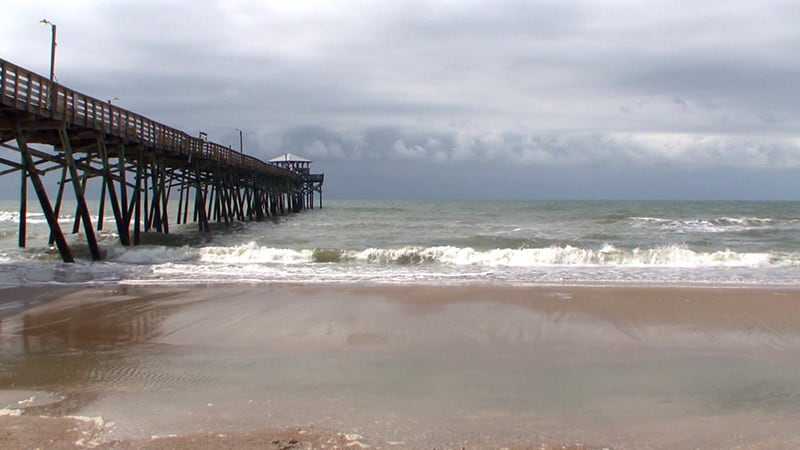 Published: Aug. 19, 2018 at 3:22 PM EDT
Beach goers in Atlantic Beach were expressing concern Monday, a day after a 14-year-old boy was bitten by a shark while surfing between the Oceanana pier and the Dunes Club.
The boy was able to swim back to shore, but when emergency crews arrived, he was treated and transported to the hospital to receive stitches.
Surfers like Danna Fox say they're concerned it could happen to them out on the waves. "I've always been afraid of shark attacks. I have, I am , myself I have a really big fear of being in the water and every time I close my eyes that's the only thing that I can visualize. It scares me obviously"
The Atlantic Beach Fire and Rescue Department says shark bites are not attacks, but rather a failed attempt to find a fish.
Adam Snyder, Atlantic Beach Fire Chief says, "It truly wasn't a shark attack. He was out there surfing along with a bunch other people. The water is really rough, and also murky, so it was very hard to see anything in the water, so what we say it's, it's more a thing of mistaken identity more than anything. A shark thought it was food and bit twice to see what it was. Once he realized it wasn't a fish, released and swam off."
Authorities say shark bites are extremely rare with only one bite reported last year in North Carolina, however the combination of peak tourist season and warm waters can increase the risk.
Martin Benavides, UNC Marine Sciences Ph. D. student says, "There is certainly going to be a greater likelihood of an encounter between sharks and humans if both the sharks and the humans are there. And that happens often, it's more likely to happen in the summertime when the water is warming up."
Experts also said that swimming and surfing near a fishing pier, such as the one in Atlantic Beach, can greatly increase the chances of getting bit because sharks are likely to be looking for prey in areas with a lot of fish.
PREVIOUS STORY:
A 14-year-old surfer was bitten by a shark Sunday at Atlantic Beach, Fire Chief Adam Snyder said.
The boy was out surfing by the Dunes Club near the Oceanana Pier around 10:47 a.m. when a shark bit him twice on his right leg just below the knee, Snyder said.
The shark let go of the boy's leg pretty quickly when it realized it wasn't a fish, Snyder said.
The surfer was able to swim back to shore and was then taken to be treated for non-life-threatening injuries, Snyder said.
No one was able to see the shark because the water was rough and murky.
This is the first shark bite this season along Atlantic Beach.