NO CLOWNING AROUND: Police charge man with making false clown report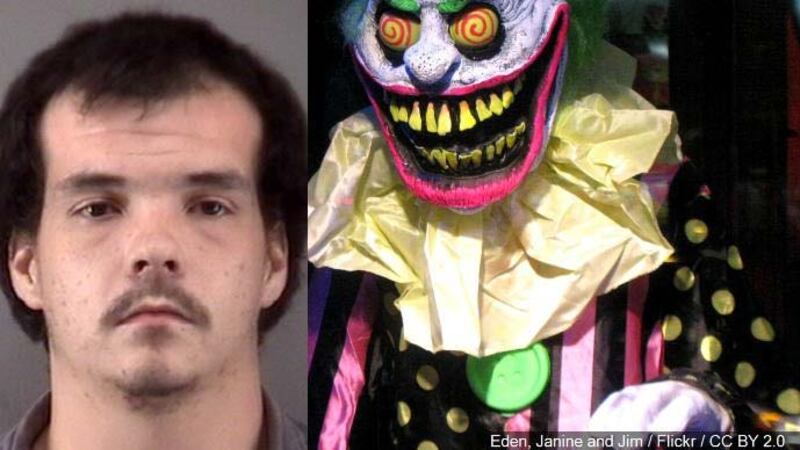 Published: Sep. 6, 2016 at 9:37 AM EDT
At least one clown sighting in the Triad has been a hoax, according to police who made an arrest in the case.
Winston-Salem police have charged David Armstrong with filing a false police report. They say early Friday morning, the man said a clown knocked on his window and that he chased them into some nearby woods.
Police say during their investigation, Armstrong admitted to making up the story.
There have been multiple clown sightings since Sunday in the Winston-Salem and Greensboro area.
Winston-Salem police say after reviewing surveillance video from one of the original calls, they found no evidence of a clown trying to lure children into the woods.
Police in North Carolina say a man with a machete chased a person wearing a clown mask into the woods near an apartment complex.
A statement from police in Greensboro, North Carolina, says officers responded to a 911 call Tuesday from an apartment complex, where a witness reported seeing a person wearing a clown mask, red curly wig, yellow spotted shirt, blue clown pants and clown shoes coming out of the woods.
Spokeswoman Susan Danielsen said another witness wielding a machete chased the person, who disappeared into the woods. Officers searched the area, but couldn't find anyone matching the description. She says no children were involved in the incident.
There have been unconfirmed reports of clowns trying to lure children into the woods in Winston-Salem and in Greenville, South Carolina.
Police say they are doing extra patrols in a Winston-Salem neighborhood after two children reported seeing a clown trying to lure kids into the woods with treats.
Police said in a news release that officers were called to the area around 8:30 p.m. Sunday.
Authorities say two children said they saw the clown, and one adult reported hearing the clown.
Fox8 News out of High Point, NC reports that the "clown" was described as wearing white overalls, white gloves, red shoes with red bushy hair, a white face and a red nose.
Officers say they found no evidence of a clown in the woods.
About four hours later, a caller who refused to give a name reported seeing a clown about 2 miles away. Police say again they found no evidence of a clown.
Both of the areas where clowns were reported are in residential areas near parks.
This story follows multiple reports of clown sightings in wooded and community areas in South Carolina.
You are reminded to call authorities if you see anything suspicious.