North Carolina deputy suspended after Black Lives Matter social media post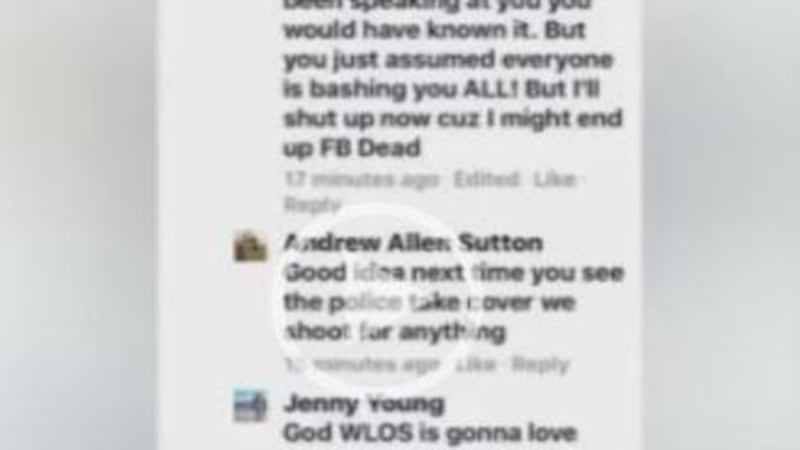 Published: Jul. 10, 2016 at 9:45 PM EDT
A Haywood County deputy has been suspended following comments he made on Facebook about the Black Lives Matter movement.
Following the shootings in Dallas, the Haywood County Sheriff's Office published a Facebook post to say no matter our skin color, we are all brothers and sister. The Sheriff asked people to remember officers are also your community members.
That's the sentiment a lot of people are feeling as the nation calls for unity after this week's violence, but that was not the message from one Haywood County Deputy's social media post.
An interaction between a deputy and Thursday morning before the Dallas police shooting and a Facebook status posted Friday morning commenting on Black Lives Matter were cause for concern for Jenny Young.
"It kind of made me scared that he's actually running around with a badge," said Young, who was exchanging comments with the Deputy.
A Facebook thread about the violence devolved. Replying to Young, Haywood County Deputy Andrew Sutton wrote, "Once again if you know so much about what we do then show us how it's done. I usually shoot people on Facebook too."
Later Sutton wrote to Young, "Next time you see the police take cover we shoot for anything."
That conversation took place Thursday morning. Thursday night, five Dallas police officers were shot and killed. On Friday morning Sutton wrote, "I hope all the ignorant blind sheep that had so much to say yesterday are happy that so many of my brothers were killed last night in Dallas..."
"It made me feel like he was speaking to me directly," said Young.
Sutton's Facebook post continued, "...If you support Black Lives Matter you make me sick and I have nothing for you."
Sutton's Facebook page no longer appears in searches but screenshots of the conversation were captured.
Sutton, 23, has been suspended.
"I think sometimes we speak with our emotions, and I think, once again, us being just humans, sometimes we're guilty of being just that -- humans. Sometimes we do and say things that sometimes we don't mean at all," said Chief Deputy Jeff Haynes.
Haynes said he trusts Sutton to protect African-Americans.
Young praised Haynes' response.
"I feel like they responded very, very well. They were very nice. They thanked me so much for bringing this to their attention. They said without people like me to bring things like this to their attention they wouldn't know, they wouldn't be able to grow, and they wouldn't be able to move forward," said Young.
Haynes says the Haywood County Sheriff's Office is always looking to improve its relations with the community.
"We're going to clearly make sure that we protect people regardless of age, sex, race, gender, ethnicity. It makes absolutely no difference. We have a job to do, and we're going to do that to the best of our abilities," said Haynes.
Copyright 2016 CNN. All rights reserved.