Much progress, but more recovery to go 10 months after Hurricane Matthew hits Lenoir County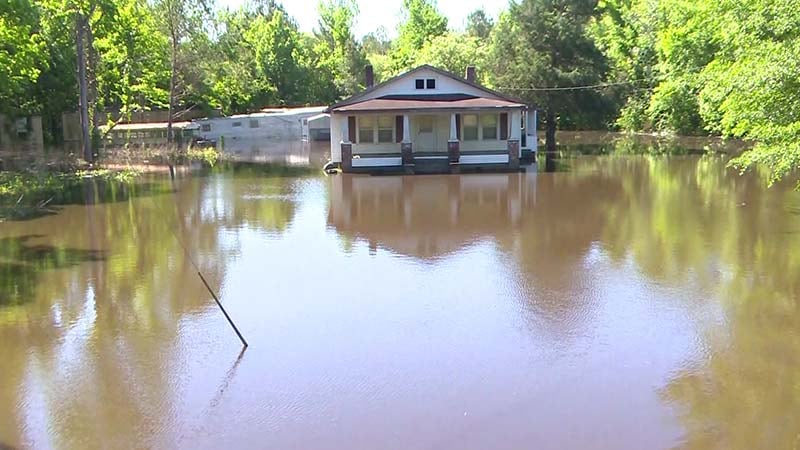 Published: Aug. 8, 2017 at 8:40 PM EDT
Tuesday marked ten months since Hurricane Matthew brought historic flooding to parts of eastern Carolina, including much of Lenoir County.
Communities there have spent countless hours and millions of dollars to rebuild homes and businesses, and now they're looking into what options they have to protect themselves from future floods.
But that unfortunately is much easier said than done and something that worries local business owners.
Russell Rhodes of Neuse Sport Shop in Kinston says, "On the outside looking in everything looks good, but we're still struggling a little on the inside and nervous. Everytime a thunderstorm comes through I check the river levels to see if it can handle that water."
As a result, some businesses aren't taking any chances. Places like this Bojangles on U.S. 70 constructed their building on an additional four feet of land that should protect it the next time it floods.
Mayor BJ Murphy says that it's preparation like this that will best serve businesses in the area, as help on a larger scale will not be quick. "The truth is no matter where we are in our flood prevention discussion with the Army Corps of Engineers it's still not going to be fast enough for this hurricane season, next hurricane season, this is literally going to take an act of Congress."
And as far as residents go, officials say the best option they're looking into involves purchasing properties and relocating people to keep them out of harms way.
All roads that were closed and in need of repair due to the flooding in Lenoir County have reopened according to Len White, the Lenoir County Maintenance Engineer, who is now overseeing the upsizing of drain pipes under local highways that will hopefully alleviate some of the flooding when it happens in the future.