Kinston area residents concerned over NOAA hurricane predictions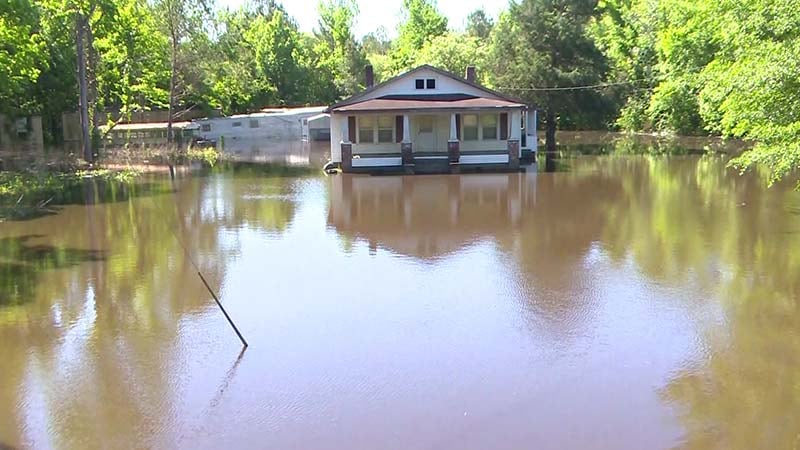 Published: May. 25, 2017 at 8:41 PM EDT
The National Oceanic and Atmospheric Administration, or NOAA, predicts the upcoming hurricane season will be above-normal or near-normal.
Some Eastern Carolina residents are less concerned about actual hurricanes and more concerned with the potential of flooding from simple rain events.
NOAA predicted a 70% likelihood that there will be between 11 and 17 named storms this hurricane season, which runs from June 1 to November 30. Two to four of those are predicted to be major storms.
"Hearing the predictions for hurricanes certainly makes us nervous," says Russell Rhodes with the Neuse Sports Shop.
Many people in Eastern Carolina are concerned that it may be an above-normal year, but also, they're worried about any event that causes flooding, not just tropical systems.
"We have become concerned about minor rains, when before we would only worry during a hurricane, and before 1999, we weren't even particularly concerned about a hurricane," Rhodes says.
At Tabernacle Free Will Baptist Church, recovery from Hurricane Matthew continues in the multipurpose building, which Associate Pastor Joshua Farley says took in six feet of water following the storm.
"If it happens again, it's been stressful, but we just trust the Lord and keep moving on," he says.
With the steeple in the the background, you can still see the water-line on the building.
Kinston officials recognize that something has changed with the way water flows.
"It's getting the water that we see here in the Neuse in through and out of Kinston is an issue, so it doesn't have to be a hurricane event, which is why we're always working on our plans and making those preparations for when the Neuse does rise," says Tony Sears, the city manager.
Some hope that preventative measures can be put in place to prevent it from rising so frequently.
"Things have changed in the way we construct roads and buildings in the Raleigh area, that's had a major impact and it's time to do a review and figure out what can be done to mitigate these not significantly low-lying areas that are being flooded now," Rhodes says.
So far this year, Kinston is seeing higher than average rainfall. The area usually averages about 17 inches by this time each year, and so far about 20 inches have fallen.
Meteorologist stress the importance of preparing for any weather event by having a hurricane kit prepared.
Emergency Kit List:
-Water, one gallon of water per person per day for at least three days, for drinking and sanitation
-Food, at least a three-day supply of non-perishable food
-Battery-powered or hand crank radio and a NOAA Weather Radio with tone alert and extra batteries for both
-Flashlight and extra batteries
-First aid kit and first aid book
-Whistle to signal for help
-Dust mask, to help filter contaminated air and plastic sheeting and duct tape to shelter-in-place
-Anti-bacterial towelettes, garbage bags and plastic ties for personal sanitation
-Wrench or pliers to turn off utilities
-Can opener for food (if kit contains canned food)
-Local maps
-Prescription medications
-Toiletries
-Sleeping supplies for each person (sleeping bag, blanket, pillow, etc.)
-Important documents (copies of driver's license, Social Security card, insurance policies, etc.)
-Cash
It is important to remember that some of these items can and will expire and need to be replaced each year or every few years. If you already have an emergency kit, it is always a good idea to check each item and make sure it is in good working order before the start of the season.