Greenville Ride of Silence honors cyclists hurt or killed on the road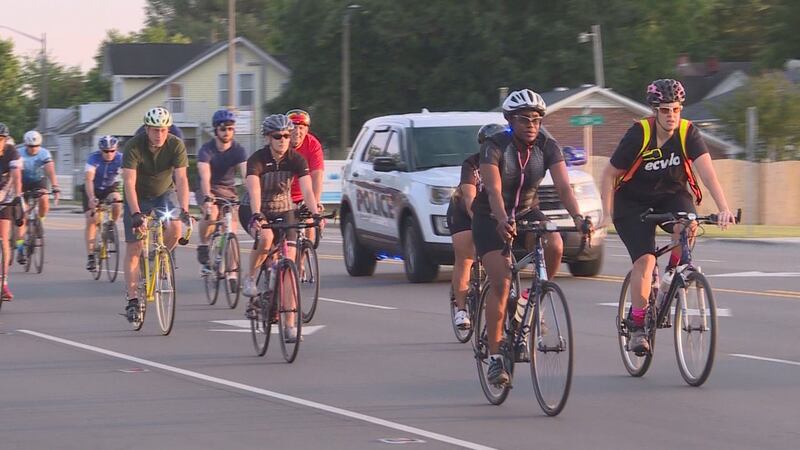 Published: May. 15, 2019 at 10:35 PM EDT
A group of cyclists in the east joined others nationwide on a ride to raise safety awareness during National Bike Month.
The Greenville-Pitt County Ride of Silence remembers those killed or injured in cycling accidents.
"I've been all over Eastern Carolina on my bike," said Dionne Evans, who rode in the Ride of Silence Wednesday evening. She says, "Every day that I get on my bike I know that I'm at risk."
The Ride of Silence is held every year in cities across the world like Greenville to remind cyclists and drivers to be respectful on the roads.
"Slow down, pay attention, stay aware and be responsible," said Steven Hardy-Braz, who helped organize the Greenville ride.
The route chosen covers 10 miles on some of the city's busiest streets. It also passed over areas that are bike friendly, and some that are not.
"In less than five months we'll be hosting almost 1,800 cyclists coming through here and staying overnight," said Hardy-Braz.
One of the goals of this year's ride was to help Greenville prepare for Cycle North Carolina's first visit to the city.
"Cycling is for everyone," said Dionne Evans who says she's seen the cycling community grow in the east since she started riding more than 15 years ago.
She wants everyone to be careful whether behind the handlebars or behind the wheel.
"We can all share the roads because we are supposed to share the roads," said Evans.
Much of the route for Wednesday's ride which includes stretches of Evans Street, Arlington Boulevard and Firetower Road will also be a part of Cycle NC's Mountains to the Coast ride.
That ride will pass through Greenville on October 3rd and 4th.