Trump in Kinston: I'm asking all Americans to dream big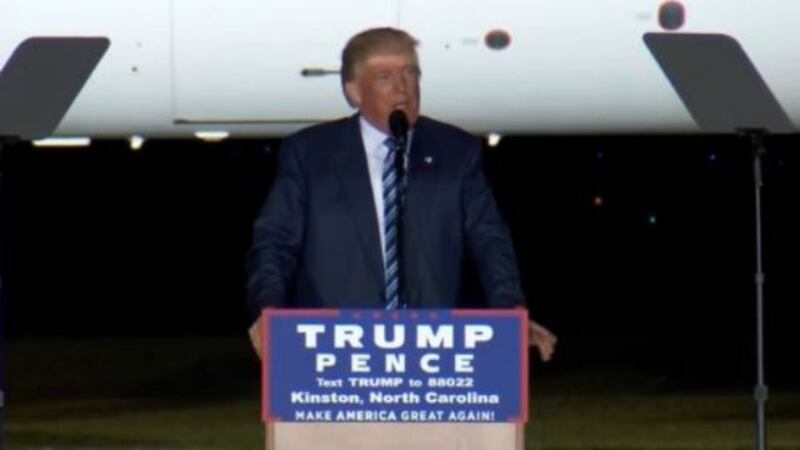 Published: Oct. 22, 2016 at 4:46 PM EDT
Republican Presidential nominee Donald Trump talked for close to an hour to a crowd of thousands in Kinston Wednesday night.
Trump started his rally in Kinston talking about jobs.
Trump said, "We are going to bring back your jobs and we are not going to allow companies to take the jobs to Mexico. We are going to make things here again."
Trump went on to say, "It's going to be America first again. Remember that."
Trump told the crowd to get out and vote now during early voting saying, "And in NC we're doing very well."
Trump talked about some of the things he wanted to do. "Real change begins with repealing Obamacare. That one's not even close."
Hillary Clinton's email scandal was also a topic of the rally.
Trump said, "The criminal conduct of Hillary Clinton threatens our Democracy. We're going to turn it around."
Trump went on to say, "To all Americans I say it is time for new leadership. Let's get the Clinton's out of our lives. We are going to have the biggest tax cuts since Ronald Reagan. We will rebuild our military and support our Vets and the men and women of law and order. We're going to save our troubled Second Amendment. And we will appoint Justices to the Supreme Court who will uphold and defend the Constitution of the United States."
Earlier in the day Wednesday Trump was in Washington, D.C. for the grand opening of his new hotel, which he says came in under budget and ahead of schedule. He also refuted claims by Hillary Clinton that he used illegal immigrants on the job. Trump said, "I didn't hire one illegal immigrant, then I see crooked Hillary saying he used illegal immigrants. They will say anything folks. I used e-verify."
Trump wrapped up his rally saying, "I'm asking all Americans to dream big. I'm going to fight for every person in this country who believes government should serve the people and not the donors. I'm going to fight to bring people together."
PREVIOUS STORY:
Eastern Carolina is back in the political spotlight as people are starting to line up for tonight's visit to Kinston by Donald Trump.
The Republican presidential candidate is scheduled to fly into the Kinston Regional Jetport and hold a rally next door to the terminal at 7:00 p.m.
By 1:00 p.m. there were about 30 people waiting in line. The candidate's schedule online no longer is allowing reservations, an indication that tickets are all gone.
Doors open at 4:00 p.m.
It will be Trump's third visit to Eastern Carolina since becoming the GOP nominee. Last month he made campaign appearances in Greenville and Kenansville.
You can watch the Trump rally here on WITN.com when it begins.
While the Clinton-Kaine campaign invigorated their supporters with rallies in the east Tuesday, today the Trump-Pence ticket rolls into town to enliven their supporters and perhaps gain some new ones.
The final preparations were being made at the Kinston Regional Jetport Tuesday night. WITN was not allowed to show any of it for safety reasons, but we did get a chance to speak to Kinston Mayor B.J. Murphy on the city being a key stop for both presidential campaigns.
The runway at the jetport was fairly quiet the night before the big event, with just a couple of planes coming in and out, but soon it will be filled with supporters of Donald Trump.
Before his stop in Greenville, Bill Clinton was shaking hands and campaigning for his wife outside Mother Earth Brewery with former Governor Jim Hunt .
Mayor Murphy talked about the importance of having both campaigns come to the city just one day apart.
"Not only does it show North Carolina has become a purple state, but also that eastern North Carolina really matters to the politicians running for office," he tells WITN. "We're getting not only attention across the state with some high-profile races, but we're also getting the attention of the national news media in North Carolina and it's really great to see so much of that happening right here in Kinston."
Mayor Murphy says there is round the clock surveillance at the jetport and they're expecting between 6,000-7,000 people to show up Wednesday.
It will be a busy day for the City of Kinston as Governor Pat McCrory is also visiting and updating the public on flood recovery efforts. That will precede a ribbon cutting at the Neuse Sports Shop as it reopens after being flooded from Hurricane Matthew.
Republican Presidential Nominee, Donald Trump, will hold a rally in Kinston on Wednesday, October 26, 2016.
Trump held previous rallies in Greenville and Kenansville, marking Wednesday as the third rally in the east.
Trump will be at the Kinston Jet Center at 7pm.
Doors to the event open at 4pm.
To get tickets, visit