Non-profit hosting 2nd annual "Healing Vets Weekend"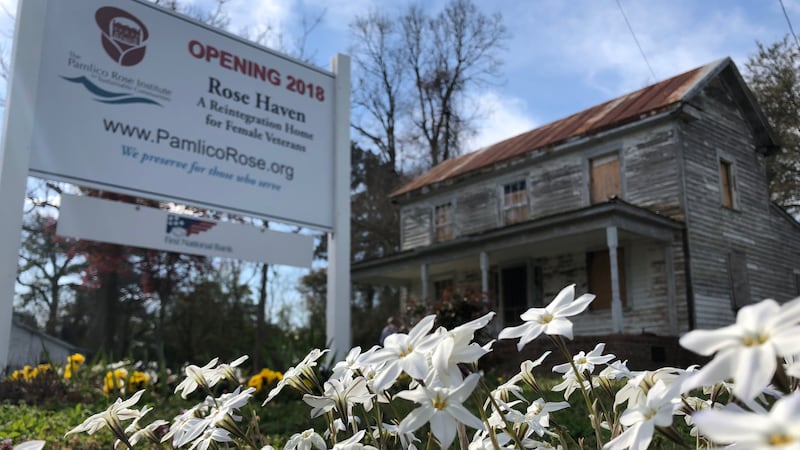 Published: Apr. 10, 2018 at 2:46 AM EDT
The 2nd annual Healing Vets Weekend is planned for May 3-4 in Washington, NC.
Both days will be full of events and activities to promote support of veterans and awareness of veteran issues across the east.
Friday, May 3:
-The opening of the Military Veteran Art Exhibit at the historic downtown Turnage Theatre
-VET Talks – IBX, the TED talk-like event that provides individual presentations on healing and Veterans.
Saturday May 4:
Saturday events take place at waterfront Festival Park and starts out with Sunrise Yoga at 7 am, followed by the signature event of the Healing Vets Weekend, the Ride for Rose Haven: Supporting Women Veterans starting at 8:00 am. The ride offers a 30-, 60-, and 100-mile cycle rides through the Inner Banks of North Carolina and has rest stops and resources to support riders.
-There will also be a Veteran Outreach Fair from 10am-2pm.
-A benefit concert by Stoeckert, James and Adams for the Rose Haven Center of Healing will start at 12pm and is free to all.
You can get more information by visiting
.
> Previous Story:
A new nonprofit in Eastern North Carolina is hosting a weekend full of events to raise awareness for veterans dealing with PTSD and other issues as they return from service.
It's called "Healing Vets Weekend" by the Pamlico Rose Institute for Sustainable Communities.
Over the course of the weekend, there will be a veteran's arts exhibit, Ted-X style talks, a concert, tours of Rose Haven and a bike ride. All of the events -- except the ride -- are free.
The "Ride for Rose Haven" is happening on June 2nd, starting and ending at the Washington waterfront. There will be three rides of varying lengths for cyclists to participate in.
Healing Vets Weekend will be May 31- June 2.
You can learn more by visiting
.
Learn more about the group's efforts to support female veterans by reading the previous story below!
A small group of determined advocates is working to make a big difference in the lives of female veterans in Eastern Carolina, particularly, those female veterans who are looking to take the final steps in drug or alcohol abuse recovery and reintegrate with their community.
The Pamlico Rose Institute for Sustainable Communities is a new non-profit based in Washington, NC. Chief Executive Officer Robert Greene Sands hopes to repurpose old, dilapidated houses starting with 219 West 3rd Street.
"So from two sides of it, right, we have the mission of the historic preservation but on the other hand we have a mission to be able to reintegrate female veterans and this house offers incredible potential for that," Sands said.
The house there is now being called "Rose Haven."
"This house has seen African-Americans living here, its seen whites living here, it has been a transitional part of changing neighborhoods and demographics over 135 years," he said.
Sands' background is in anthropology. He noticed a gap in recovery programming for female veterans while working at the Department of Defense.
"There's issues that female veterans have that male veterans don't have but they still experience PTSD and suffer from substance abuse and high rates of suicide like their male counterparts," he said.
He hopes that Rose Haven will serve as a sort of 'last step' in formal drug or alcohol recovery for women who have completed a residential program, something through a Veterans Affairs hospital or similar program and are now looking to rebuild their one lives while maintaining sobriety.
Starting in 2019, four female veterans and a female coordinator will live in the home's four bedrooms. The house will not be a recovery program itself, but a place where these women can live together as they work out whatever is next for them. It will be a place of support where they can work on becoming responsible members of a community again.
"So, what we want to do is bring them here to start helping with their community interactive skills, the first half was based on who they were, the second half is going to be based on who they are to others," he said.
Sands refers to it as a place of healing. "Healing by itself is making one whole again, so when you heal, you want to take condition of where you were broken and you want to bring it back to whole again...but oftentimes, when you heal, you're much different than the person you were before you started this recovery process," Sands said.
David Steckel is the project engineer. He worked with Rob Sands at the Department of Defense and moved with to Eastern North Carolina with his wife to be part of this project.
"I am a veteran, and spent a year in Afghanistan as a civilian and saw what they went through and saw how it affected them and figured this could be a very good way of donating myself and my time to remedying that," Steckel said.
The approximately 135-year-old home is getting a major upgrade -- starting with the interior structures.
"This house was built to last hundreds of years, its incredible, the beams and studs that we've had to sister and take down, some of them still had the bark on from where they were literally just cut and thrown up to hold the house, so this house was made functionally, not certainly for luxury," Sands said.
"We've spent a lot of time just opening it up, a lot of work has been done inside the house, so people driving by know that we're here but they don't see any progress but there's actually been a lot of progress," Steckel said. "This house is going to be very secure, it's probably going to be one of the cleanest houses in the area because everything has been vacuumed and de-cluttered!"
Much of the property rehab is being done by volunteers like Greg Smith, who has lived in Washington for more than 20 years.
"I think it's great, it's going to be community-building, it's going to give them a sense of community as they are rehabilitating and reintegrating into society, it's going to help the neighborhood and revitalize the neighborhood," he said.
He says he knew he wanted to be part of this special effort.
"I came in on the first workday and started with a hammer and a prybar and started pulling down the boards inside, the plaster walls inside...it was hot, it was humid, it was dirty but its all worthwhile," Smith said.
The Pamlico Rose Institute for Sustainable Communities is still fundraising to pay for the remodel of Rose Haven. Sands says he used his personal inheritance as seed money for the endeavor.
The organization is hosting a 'Healing Vets Weekend' and bike ride in June that will include a tour of the house, yoga Ted-X style talks on veteran issues and a bike ride with 20, 54 and 103-mile options.
You can learn more by visiting
.