Crop damage from Hurricane Matthew in the billions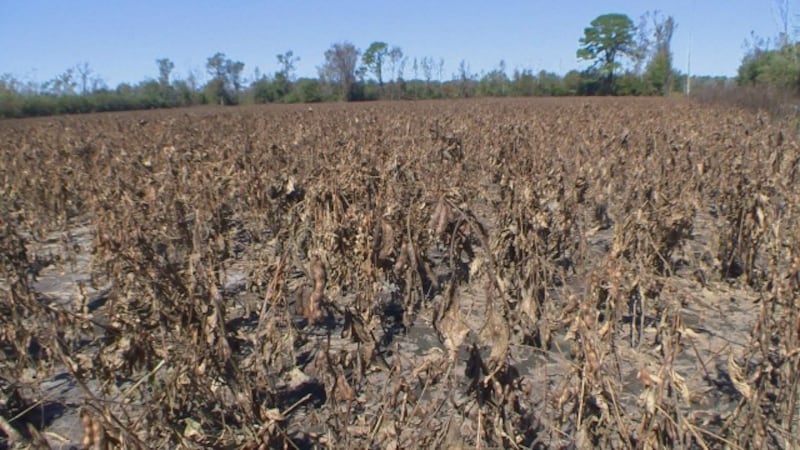 Published: Oct. 26, 2016 at 8:18 PM EDT
Agriculture officials say across the east, the flooding from Hurricane Matthew caused billions of dollars in crop damage and lost revenue.
Pitt County Cooperative Extension Agent Andy Burlingham says many crops are located near or along the Tar River - or other bodies of water - and as a result of the flooding, he says every farmer in the county was impacted in some way or another.
Pitt County farmer Steve Tyson says after several days of flooding, he lost fifteen to twenty percent of all his soybean crops, plus ten percent of his peanut crops, totaling up to nearly $50,000 of lost revenue.
The North Carolina Department of Agriculture and Consumer Services also issued a letter saying any crop harvested from a field impacted by flood waters cannot be used for human consumption and crops can only be used for animal feed if they pass an FDA established test.
The crops from flooded fields can't be harvested because the water - which could contain chemicals, toxins and sewage - has seeped into the soil and contaminated the crop.
But even then, Tyson says the price he'd get for the crop would still be below the cost of production, meaning he'll still be losing money.
Tyson says, "It kind of hits you where it hurts. But anyway, we're facing...crop prices are not as high as they've been in previous years and then when you stack a loss on it."
He says even the fields that weren't flooded will see a loss in yield because of the heavy rainfall and strong winds.
Tyson says he has to wait for the crops in his flooded fields to rot and the ground to dry - which will take a few more weeks - until he can clear the fields and start working for next season.
If farmers do want to have their crops tested to potentially harvest for animal feed, they can contact their local extension agent.
The NC Department of Agriculture and Consumer Services has waived the testing fee because of the widespread devastation.