Forecaster
Greenville, NC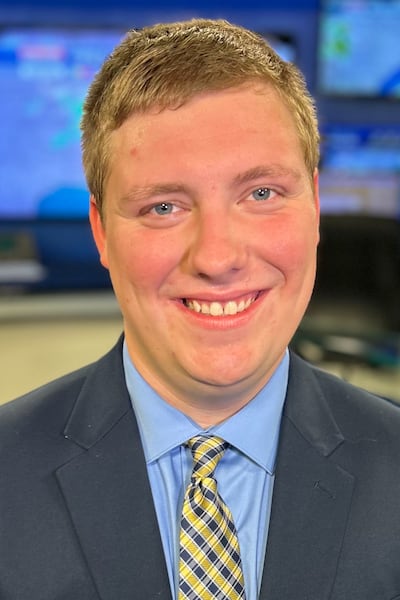 Dustin Staples joined WITN in August 2023 as a Forecaster from Martinsville, VA
Dustin found his niche for weather at a young age, where he would begin the day watching his local tv stations in the Roanoke-Lynchburg, VA market before going to school and telling his classmates the daily forecast for the day of and the upcoming days ahead.
As he continued to tell his classmates the weather in middle school, a mentor and former educator, Ms. Helen Howell, asked the students in class one day what they wanted to do after high school and Staples said, "I want to be a meteorologist."
After he said that the class, he was offered to do the weather forecast every day for the morning and afternoon announcements over the PA system.
As he continued to the school announcements, a few of his friends came together and decided to make the morning announcements into a daily broadcast, where they began in high school and became the "WMHS8 Stars" of Martinsville High School.
As his time high school was coming to an end, the group friends went their separate ways and Staples was offered a job his senior year at his local tv station, BTW21, and took on the title as Weatherman. He then went on to complete his time at Martinsville High School and pursued his education at Radford University, while working remotely with BTW21 for five and half years.
During his time in college, Staples decided to remain busy with his five years in Highlander Student Media as the Station Manager and weekly show host for Radio Free Radford, Weekly Weather Correspondent and co-Editor-in-Chief for the student newspaper, The Tartan, and Weather Correspondent for Radford on Camera. (ROC-TV). He then later was involved with a campus ministry, the Baptist Collegiate Ministry (BCM) as a member, served on staff as the Social Media & Co-Outreach Coordinator, and finally became an intern the spring 2023.
Throughout his time at Radford, a close friend of his gave him the title, "Mr. Radford," as his involvement on-campus was very noticeable and still to this day, he is known as "Mr. Radford" or "Mr. Weatherman when he makes trips back to his alma mater.
When Staples is not busy on the air, you can find him exploring parts of ENC walking at the Greenway, taking pictures and videos of all weather, enjoying a hike in great outdoors, and traveling to the beach or mountains.
If you have a suggested restaurant or favorite attraction for Dustin to visit, you can send him an email or message him on his social media pages.
Education
Radford University: Media Studies/Journalism, 2023
National Weather Service Skywarn Storm Spotter, 2021
Updated: Aug. 31, 2023 at 10:38 AM EDT
|
Idalia bringing big rains to Eastern NC