First Alert Weather Day: Heavy rain approaches the coast
The strongest storms will exit later this evening
Published: Nov. 21, 2023 at 7:48 AM EST
|
Updated: Nov. 22, 2023 at 12:13 PM EST
GREENVILLE, N.C. (WITN) - Whether you're at home, traveling, or headed to work, this has been a wet start to the day. Heavy rain will continue through lunchtime before departing and leaving us with clearing skies overnight. A few isolated showers will try to swing down out of Virginia tonight, but coverage will be minimal and the rain will be brief.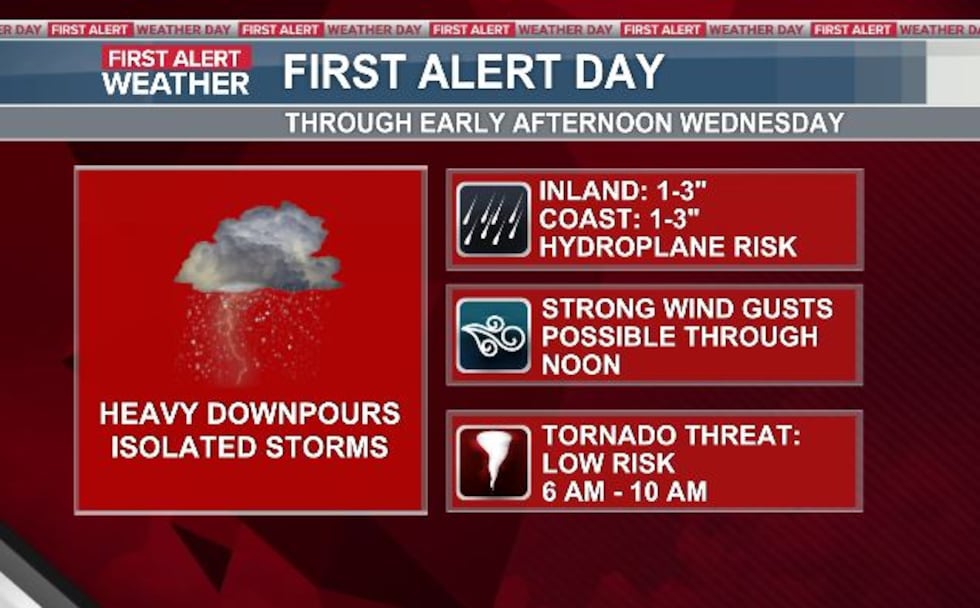 Periods of heavy rain will persist through midday Wednesday, along with a few rumbles of thunder. 1-3″ of rain is expected to fall from I-95 to the coast. To make things worse, it's fall! And leaves are on the ground everywhere. Those leaves and pine needles will easily clog drains leading to standing water in some spots. If you're on the road, heavy rain will decrease visibility and cause hazardous driving conditions. Ponding on the roadways will make hydroplaning easier. While heavy rain is the main threat, enough storm fuel may move in overnight to give us a very low threat of severe weather. High winds and a tornado can't be ruled out with some storms. Severe threat won't hang around as long as the heavy rain will. 3-9 AM is the timeframe to watch for a severe thunderstorm or tornado warning. Have a way to get warnings overnight. As we approach lunch on Wednesday, heavy rain should start to wind down. Light to moderate rain may continue into the afternoon for some spots.
Stay tuned to WITN, witn.com, and the WITN First Alert Weather App for the latest information.
Copyright 2023 WITN. All rights reserved.