Police: 4 injured after man opens fire at Walmart in Ohio; shooter dead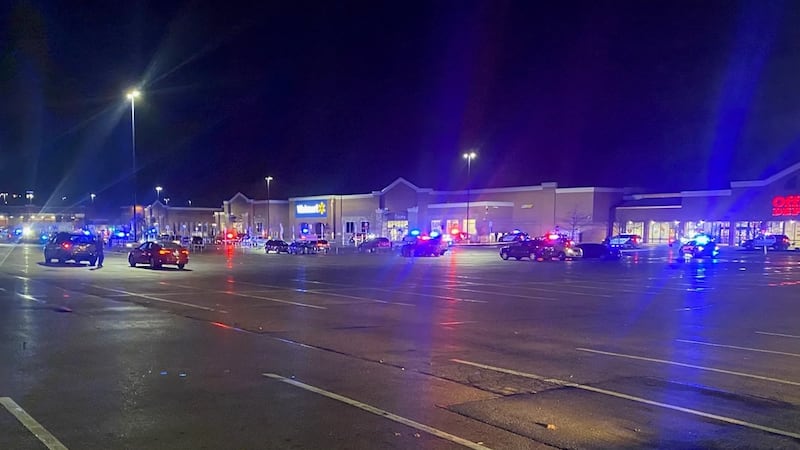 Published: Nov. 21, 2023 at 1:26 AM EST
|
Updated: Nov. 21, 2023 at 2:36 PM EST
BEAVERCREEK, Ohio (WXIX/Gray News) - Police say four people were injured when a man entered a Walmart in Ohio and began firing a gun.
Police say the suspect walked into a Walmart in Beavercreek around 8:35 p.m. Monday and began shooting, injuring four people. A witness in the store called 911 to report the incident a little after 8:36 p.m., Beavercreek Police Capt. Chad Lindsey said. Within one minute, officers were dispatched, arriving at 8:39 p.m.
The alleged shooter died of a suspected self-inflicted gunshot wound, WXIX reports. Police later identified him as 20-year-old Benjamin Charles Jones of Dayton.
Police say the four victims, three females and one male, were taken to area hospitals. As of 2 p.m. on Tuesday, one female victim remains in critical condition, and the other three are considered to be stable.
Redacted body camera footage shows an officer finding the shooter on the ground by the Vision Center at 8:42 p.m. with a self-inflicted gunshot wound, Lindsey said.
The gun Jones used was a high-point .45-caliber carbine long gun, according to Dayton police.
Officers didn't fire any shots on scene, police said.
"It's always one of those things where you don't think it can happen in your community, so any time it does, it's shocking - it's tragic. It's just another example of the need for people to just be aware of what's going on. The response to this was so fast. We had people calling in, and everybody just came together to handle this situation as quickly as possible," Lindsey said.
Walmart released the following statement to WXIX:
"We're heartbroken by what's happened at our Beavercreek, Ohio store. This remains a developing situation and we're working closely with investigators on the scene. All questions should be directed to local law enforcement."
Graphic Warning: The following video contains footage that may be disturbing to some view
The motive for the shooting is unknown.
Dayton police said Tuesday that they had little interaction with Jones prior to Monday's shooting. His Dayton residence was searched.
Cincinnati FBI is assisting police in the ongoing investigation.
This is the second major shooting incident at the Walmart in Beavercreek in just under a decade.
In 2014, 22-year-old John Crawford III was shot and killed by police at the store. He was reportedly carrying a pellet gun he picked up at the store when a man called 911 and said he was waving the gun. The 911 caller later retracted that statement.
Police say Crawford was not obeying police orders as they commanded him to drop the weapon.
Angela Williams, who had been shopping at the store at the time, died of a cardiac event as she attempted to flee.
Copyright 2023 WXIX via Gray Media Group, Inc. All rights reserved.