Band director from Eastern Carolina school is set to play in Macys Day Parade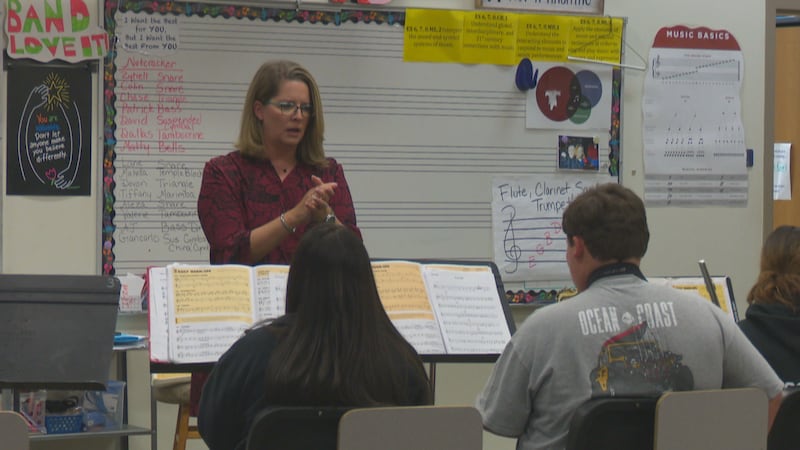 Published: Nov. 17, 2023 at 7:42 PM EST
GREENE COUNTY, N.C. (WITN) - An Eastern Carolina band director will experience a once-in-a-lifetime opportunity by taking part in a Thanksgiving tradition.
Joanne McGowan has worked at Greene County Middle School for 12 years, teaching endless band classes. But she's never done something like this before.
"It was equal excitement, and how am I gonna do this," said McGowan.
On November 23, Thanksgiving day, she will be one of 400 band directors from across the country performing in the Macy's Thanksgiving Day Parade as part of the band director's marching band.
"We were given six songs ahead of time to memorize. I've memorized about half of them," said McGowan.
With the thrill of getting to play her saxophone on national TV, McGowan says she's feeling some other emotions, too.
"I'm really nervous, and I don't typically get nervous about things, but between all the logistics of everything and the fact that I've never been in the parade, it's a little daunting," said McGowan.
She will be performing with the Saluting America's Band Directors with a theme of "We teach music. We teach life."
"We don't just teach kids how to play notes on a page. Teach them how to be members of an ensemble. We hope to, and I think every band director thinks this. They leave better human beings," said McGowan.
Her community and Greene County will be supporting McGowan along the way.
"We're all very excited for Ms. McGowan; we know this is gonna be a fun experience for her," said Phil Cook, the Greene County Middle School principal.
With her students, of course, cheering her on as she takes on the Big Apple and the famous parade.
"Just to see someone like her just go out of the small town on national TV. It's a proud thing to see," said 8th grader Kemori Sheppard.
McGowan is one of the three band directors from Eastern North Carolina playing in the parade. The other two are middle and high school band directors from Perquimans County.
Copyright 2023 WITN. All rights reserved.