Tropical Update: Potential Tropical Cyclone Twenty-Two expected to become Vince this weekend
This system should stay well away from the U.S.
Published: Nov. 14, 2023 at 7:15 PM EST
|
Updated: Nov. 17, 2023 at 4:16 PM EST
GREENVILLE, N.C. (WITN) - With just two weeks left in the hurricane season, the National Hurricane Center has started issuing advisories on what is now Potential Tropical Cyclone Twenty-Two in the Caribbean Sea. Several Tropical Storm Watches are up from Jamaica to Hispaniola.
As of the 4 PM Friday update, this cyclone continues to stay in the Caribbean Sea and is expected to move into the Atlantic Ocean this weekend. It is moving to the northeast at 17 mph with sustained winds at 35 mph and gusts to 45 mph. Over the course of the weekend the storm is expected to move over eastern Cuba towards a path east of Bermuda as a low end tropical storm Saturday afternoon, then weaken to a remnant low going into Sunday.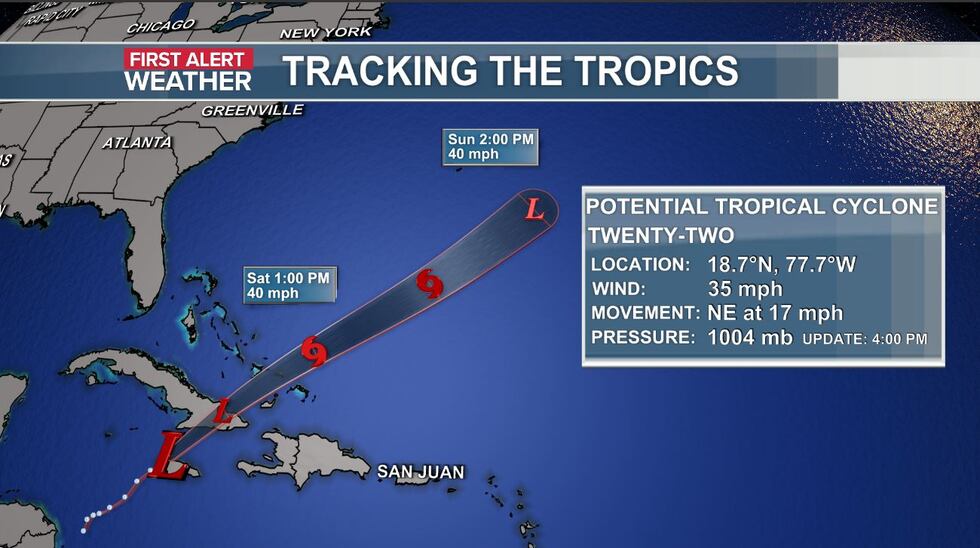 If this system does come together this today or this weekend, Vince is up next on the list of names for the 2023 hurricane season.
Stay with WITN and WITN.COM as we track the remaining storms this hurricane season.
Copyright 2023 WITN. All rights reserved.