'Thanksgiving Grandma' is once again welcoming strangers to her home to celebrate the holiday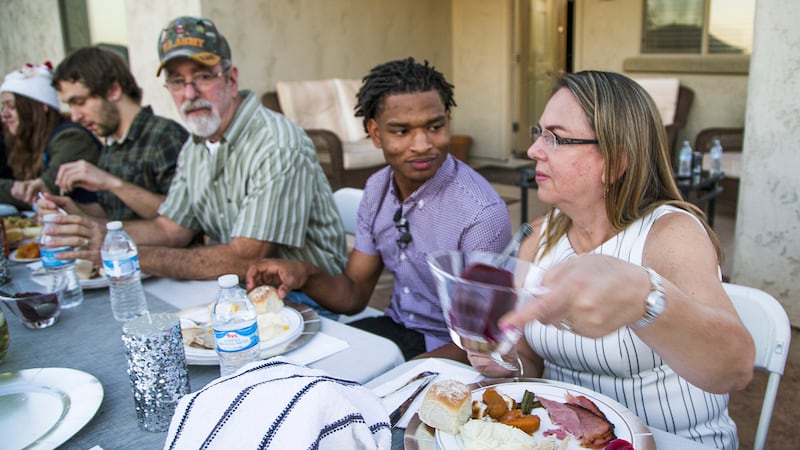 Published: Nov. 16, 2023 at 4:34 PM EST
PHOENIX (AP) - An Arizona woman who shared her Thanksgiving table seven years ago with a stranger she accidentally texted will be opening up her home again this year to two new strangers.
Wanda Dench is teaming up with Airbnb to expand the festivities, and the company said it will donate to the relief organization Feeding America.
Dench's tradition began in 2016 with a mistaken text to then-teen Jamal Hinton. She was trying to invite her grandson but didn't realize he had changed his phone number. Hinton jokingly replied he would like to come and Dench said he was welcome. They forged a relationship that still holds strong.
Hinton had tweeted screenshots of their initial exchange and subsequent meeting. Since then, their continuing joint celebration has turned into a tradition that social media users have come to expect every Thanksgiving. Dench has been dubbed "Thanksgiving Grandma" on the internet.
Airbnb guests can sign up for the chance to eat a catered early holiday dinner on Nov. 20 with Dench, 66, and Hinton, 24. They'll also get an overnight stay at Dench's new home in the north-central Arizona city of Prescott Valley.
"I said from the jump of our first Thanksgiving that I always wanted to have more people join our Thanksgiving and be able to celebrate with us and have the amount of fun that we have together," Hinton told USA Today.
The menu will include classics such as turkey and mashed potatoes, along with Dench's favorite Costco pumpkin pie. The entertainment will include taking selfies, watching movies, and playing board games. The booking charge on Airbnb to sign up for the dinner and overnight stay is $16, corresponding with the year Dench and Hinton met. Guests will have to pay for their travel.
Airbnb hasn't said how much it plans to donate to Feeding America.
Dench said she hopes others are inspired to be similarly open to new friendships.
"That would be pretty cool to see people wanting to share a good experience and then open it up to other strangers as well," she said.
Meanwhile, a movie about the unlikely friendship between Dench and Hinton is possibly in the works, The Arizona Republic reported.
Copyright 2023 The Associated Press. All rights reserved.