The average freeze dates for portions of Eastern North Carolina's coverage area
Here are the days of the last frost and freezes for ENC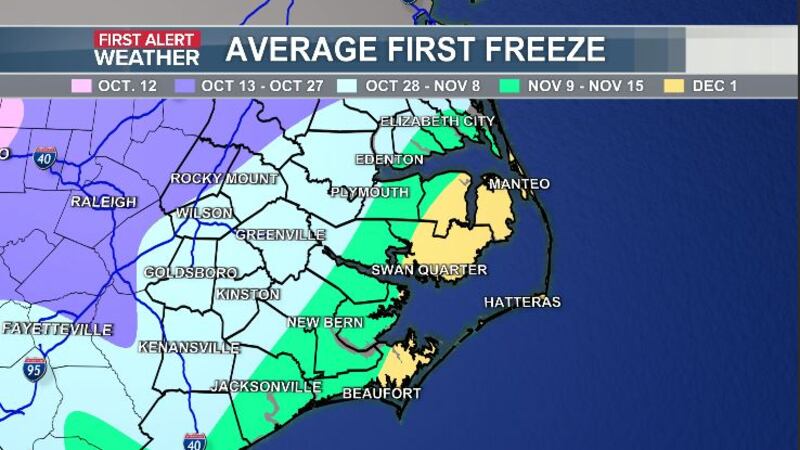 Published: Nov. 2, 2023 at 9:19 AM EDT
|
Updated: Nov. 2, 2023 at 9:20 AM EDT
GREENVILLE, N.C. (WITN) - Even though the calendar says November, most of the ENC viewing area woke up in the 20s and 30s Thursday, November 2, 2023. With the official start of winter over a month and half away, this is on target for portions to see the first freeze of the season.
Here are a list below with a few of the cities in Eastern Carolina that average their first and last freeze of the fall and spring season:
| First Freeze | Last Freeze |
| --- | --- |
| Greenville- November 2 | Greenville- March 30 |
| Jacksonville- November 3 | New Bern- March 22 |
| New Bern- November 12 | Jacksonville- March 20 |
| Morehead City- November 19 | Morehead City- March 19 |
| Cape Hatteras- December 5 | Cape Hatteras- March 14 |
As the of the official growing season has come to an end with the hard freeze, it is important to remember to bring in any plants inside and cover up any potted sprouts that might be blooming late in the year, protect your pipes and secure any loose water amenities that are still open, bring your pets inside the cold, and listen to your body as the most busiest time of year is approaching with the holidays are in the coming weeks.
Copyright 2023 WITN. All rights reserved.