Tropical Update: Philippe impacting Bermuda Friday as post-tropical storm as it heads to the Northeast
Philippe is expected to make impacts as post tropical storm
Published: Sep. 30, 2023 at 11:46 PM EDT
|
Updated: Oct. 6, 2023 at 11:07 AM EDT
GREENVILLE, N.C. (WITN) - As of the Friday 11 a.m. update from the National Hurricane Center, Philippe is now a post-tropical storm. This storm continues to maintain winds of 50 mph, with gust up to 65 mph. It is currently moving to the north at 16 mph.
Philippe's structure remains disorganized with most of the thunderstorms displaced to the southeast portion of the system. The storm will pass very close to the island of Bermuda Friday afternoon. Philippe may then impact Maine by late in the weekend with winds at 50 mph.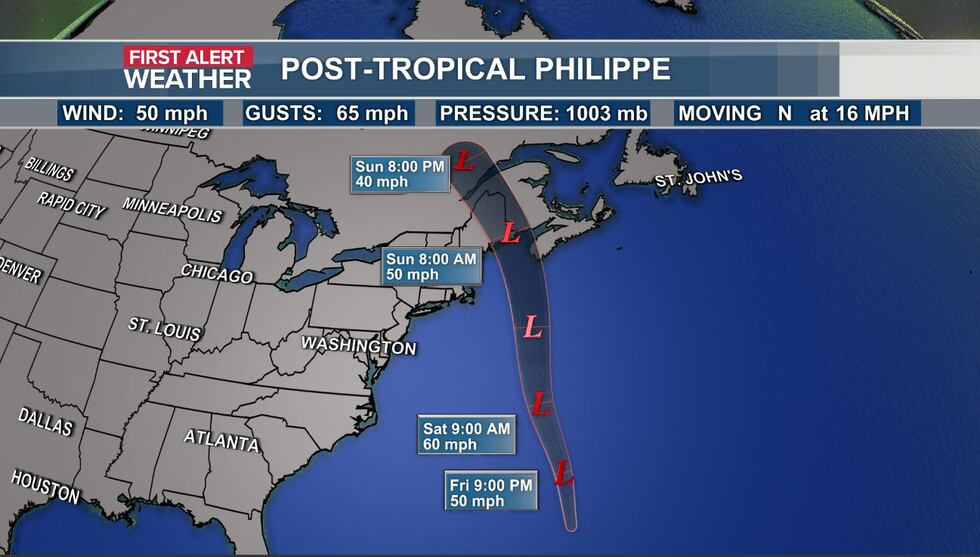 As we head through October, the frequency of storm development slows down significantly. However, that does not mean we need to let our guard down. October has also been known to produce some of the most well-known storms that have caused the most damage, such as Hurricane Matthew in 2016 and Michael in 2018.
As for other areas we are watching, there is small disturbance off the coast of Africa that has a 50 percent of developing as of the latest update. The next name on the list is Sean.
Stay with WITN and WITN.COM as we track the remaining name storms this hurricane season.
Copyright 2023 WITN. All rights reserved.