Justin Jefferson's 2 TDs, D.J. Wonnum's 51-yard fumble return lift Vikings over Panthers 21-13
Panthers fall to 0-4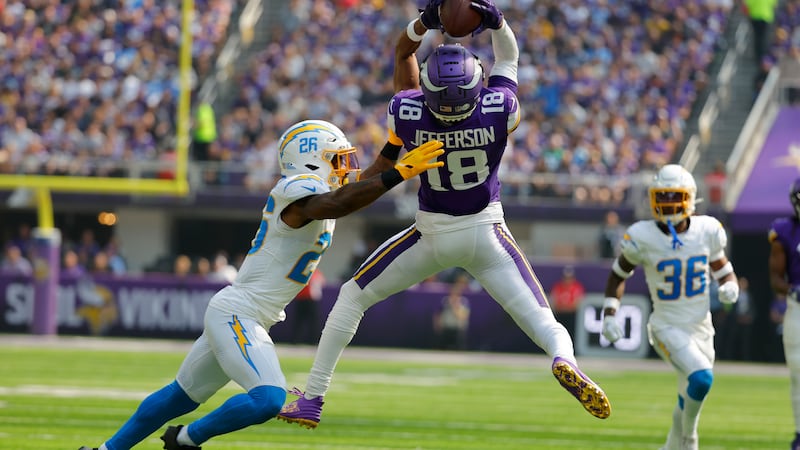 Published: Oct. 1, 2023 at 4:56 PM EDT
CHARLOTTE, N.C. (AP) — Kirk Cousins threw two touchdown passes to Justin Jefferson and D.J. Wonnum returned Bryce Young's fumble 51 yards for a momentum-changing touchdown, and the Minnesota Vikings held on to beat the Carolina Panthers 21-13 on Sunday for their first win of the season.
Cousins overcame two interceptions, including one that was returned 99 yards for a touchdown by Sam Franklin, and finished with 139 yards passing. Jefferson beat a Carolina secondary playing without three starters for 85 yards on six catches.
Alexander Mattison ran for 95 yards and Harrison Smith had three sacks for the Vikings (1-3), including the one that led to Wonnum's score.
Bryce Young was 25 of 32 for 204 yards for Carolina.
The winless Panthers (0-4) find themselves in a tremendous hole. Of the 164 teams that have started 0-4 in the Super Bowl era, only the 1992 Chargers went on to make the playoffs.
The momentum of the game turned late in the third quarter when Smith raced into the Carolina backfield untouched and stripped Young of the football from behind. The ball bounced off Young's leg and careened further into the backfield before Wonnum scooped it up and scored.
The Vikings sacked Young on third down on the ensuing series and Cousins found Jefferson along the left sideline for a 30-yard touchdown strike to give the Vikings a 21-13 lead.
The Panthers attempted to rally, reaching the Vikings 9 with less than two minutes remaining, but Smith sacked Young twice on the final three plays, including on fourth-and-goal at the 18, to seal the win. Minnesota finished with five sacks, all coming in the second half.
Franklin, a special teams standout who started in place of the injured Xavier Woods, intercepted Cousins' pass intended for K.J. Osborn near the left pylon and went the length of the field to give Carolina an early 7-0 lead.
The INT return was the longest in Panthers history and came just three plays after Franklin was flagged for pass interference, setting the Vikings up with a first-and-goal.
The Vikings entered the game minus-7 in the turnover differential and Cousins' two early picks left them in a 13-7 hole at halftime.
Panthers: Cornerback Donte Jackson left the game in the first half with a shoulder injury and did not return. The Panthers entered the game without two other defensive backs in Jaycee Horn and Xavier Woods.
UP NEXT
Vikings: Host Kansas City on Sunday.
Panthers: At Detroit on Sunday.
Copyright 2023 WITN. All rights reserved.