Female safety becomes first woman non-kicker to play in NCAA football game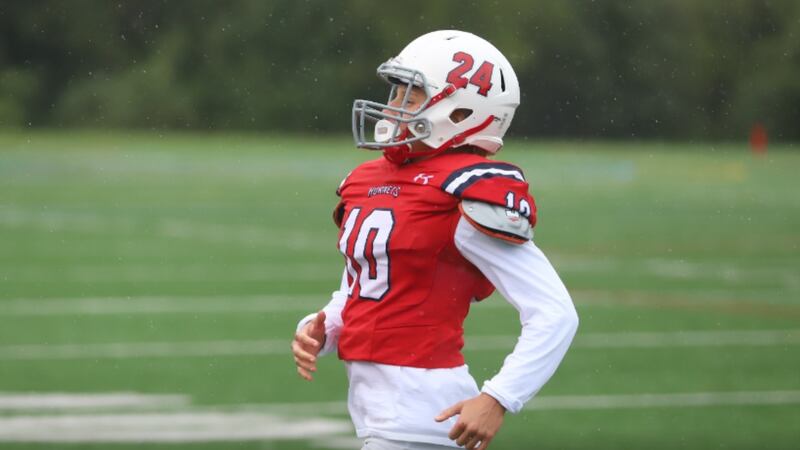 Published: Sep. 26, 2023 at 9:59 PM EDT
WINCHESTER, Va. (AP) — Haley Van Voorhis, a safety for Division III Shenandoah University, became the first woman to appear in an NCAA football game at a position other than kicker last weekend.
The 5-foot-6, 145-pound junior registered a quarterback hurry in the first quarter of Shenandoah's 48-7 home win over Juniata. She brought the quarterback to the ground just after he released the ball, and the third-down pass was incomplete.
"It's an amazing thing," Van Voorhis told The Washington Post. "I just wanted to get out and do my thing. I want to show other people this is what women can do, to show what I can do. It's a big moment. I made the impossible possible, and I'm excited about that."
Van Voorhis' achievement was the latest milestone for women in college football. In 2020, Vanderbilt's Sarah Fuller made two extra points to become the first woman to score in a Power Five conference game.
Liz Heaston became the first woman to score in college football with two extra points for Willamette of NAIA on Oct. 18, 1997.
Katie Hnida became the first woman to score at the FBS level when she made two extra points for New Mexico on Aug. 30, 2003. April Goss was the second to make an extra point when she scored for Kent State in 2015. Tonya Butler was the first woman to kick and make a field goal in an NCAA game for Division II West Alabama on Sept. 13, 2003.
Copyright 2023 The Associated Press. All rights reserved.