Taylor Swift spotted at Chiefs game amid Travis Kelce dating rumors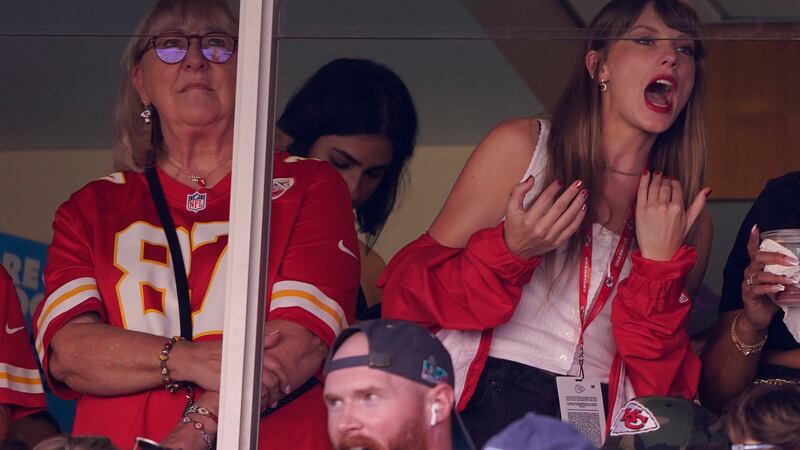 Published: Sep. 24, 2023 at 6:03 PM EDT
|
Updated: Sep. 24, 2023 at 9:20 PM EDT
KANSAS CITY, Mo. (KCTV/Gray News) - Taylor Swift showed up for a Kansas City Chiefs game Sunday, watching from a suite alongside the mother of Chiefs tight end Travis Kelce.
Dating rumors have been swirling around Swift and Kelce after he attended one of her concerts in Kansas City, intending to give her a friendship bracelet along with his phone number.
It was reported earlier this week that Kelce invited Swift to come see a Chiefs game at Arrowhead Stadium.
"I threw the ball in her court and told her, 'I've seen you rock the stage in Arrowhead. You might have to come see me rock the stage in Arrowhead and see which one's a little more lit.' So, we'll see what happens in the near future," Kelce said Thursday in an interview on The Pat McAfee Show.
Video posted on social media Sunday shows the pop star cheering on the Chiefs alongside Kelce's mother, Donna Kelce.
On Wednesday, Kelce's brother, Philadelphia Eagles center Jason Kelce, seemingly confirmed the Chiefs tight end and Swift were dating, but Travis Kelce laughed off the rumors during his interview on McAfee's show.
"It's hilarious how much traction this has actually got," he said. "It's like an old game in school called 'Telephone,' where everybody is just whispering in each other's ear, just hearing some random stuff. No one actually knows what's going on."
Kelce then jokingly went off on his brother.
"The guy is absolutely ridic— can't stay out of the freaking headlines," he said.
Kelce grabbed a 3-yard touchdown pass in the third quarter Sunday, and the Chiefs ended up beating the Chicago Bears 41-10.
Kelce did not speak to reporters afterward, but he was spotted leaving Arrowhead with Swift by his side, The Associated Press reports.
"He told me at the last minute" that Swift was coming to the game," said Chiefs quarterback Patrick Mahomes. "Some things with Trav, he says it and you don't know if it's true or not, he says it so calmly."
Copyright 2023 KCTV via Gray Media Group, Inc. All rights reserved. The Associated Press contributed to this report.