Maye leads UNC to first 4-0 start since 1997
#17 UNC 41, Pittsburgh 24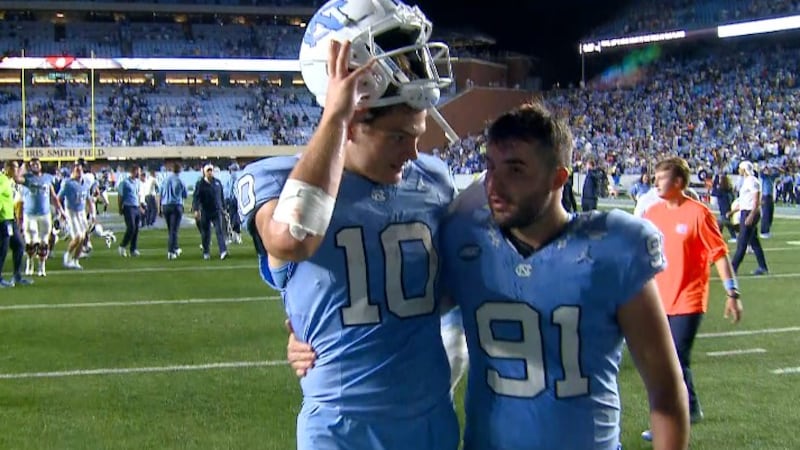 Published: Sep. 23, 2023 at 11:40 PM EDT
PITTSBURGH (AP) - Drake Maye threw for 296 yards, including an impressive left-handed flip for a touchdown, and ran for two more scores as No. 17 North Carolina raced past Pittsburgh 41-24 on Saturday night.
The Tar Heels improved to 4-0 for the first time since 1997 - the final year of coach Mack Brown's first stint at UNC before leaving for Texas - by relying on Maye and allowing the Panthers to self-destruct.
Maye completed 22 of 30 passes. The right-hander's lefty toss to Kobe Paysour for a 7-yard score late in the first half gave the Tar Heels some breathing room in their Atlantic Coast Conference opener.
Omarion Hampton ran for 66 yards and a touchdown for UNC. J.J. Jones caught six passes for 117 yards and Alijah Huzzie returned a punt 52 yards for a score as the Tar Heels beat Pitt (1-3, 0-1) for the first time since 2018.
Rodney Hammond ran for 83 yards and a touchdown and Kenny Johnson raced 100 yards on a kickoff return for a score for the Panthers, who lost quarterback Phil Jurkovec to an undisclosed injury late in the first half after he took a hit by UNC's Tayon Holloway, who was ejected for targeting on the play.
Jurkovec, who struggled in losses to Cincinnati and West Virginia, showed renewed confidence while completing 11 of 15 passes for 109 yards before exiting. Backup Christian Vellieux, a transfer from Penn State, hit on 8 of 19 for 88 yards with two interceptions.
The Panthers led 14-7 early in the second quarter before May and the Tar Heels took over. UNC scored 28 of the next 31 points, highlighted by a play late in the first half that - if Maye's fledgling Heisman Trophy campaign can gain momentum in October - will serve as a showcase for his mix of athleticism and football IQ.
Maye took the snap at the Pitt 7 and ran to his left, stiff-arming Panther defensive end Nate Temple with his right hand. The sophomore then jumped and threw a semi-spiral to an open Paysour in the back of the end zone that put UNC up 28-17 with a minute to go in the half.
The Tar Heels extended the lead to 18 eight plays into the third quarter when Maye snuck over from 1 yard out and UNC cruised the rest of the way against a Pitt team off to its worst start since 2017.
THE TAKEAWAY
UNC: The Tar Heels have plenty to work on heading into their bye week. The defense had trouble with Pitt's hardly potent offense and the special teams allowed a blocked punt and a kickoff return touchdown. Still, they get to work on those things while being undefeated and heading into the teeth of a schedule that doesn't look as daunting as it did a month ago.
Pitt: It might not matter who the quarterback is if the offensive line can't make significant improvements. Jurkovec was hit regularly on dropbacks before leaving and Veilleux was under heavy duress.
UP NEXT
UNC: Begins a stretch of three straight games at Kenan Memorial Stadium on Oct. 7 when Syracuse visits.
Pitt: At Virginia Tech next Saturday. The Panthers have won each of their last three meetings with the Hokies.
Copyright 2023 WITN. All rights reserved.