Duke rolls past UConn to get to 4-0
#18 Duke 41, UConn 7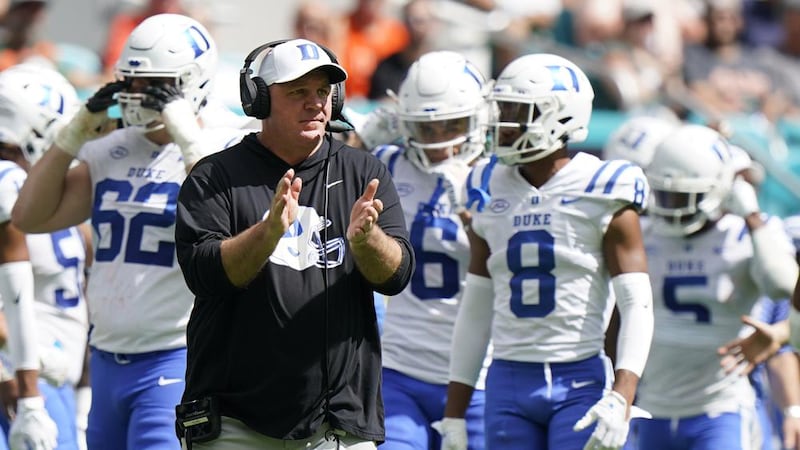 Published: Sep. 23, 2023 at 11:29 PM EDT
EAST HARTFORD, Conn. (AP) - Duke passed its first road test of the season at UConn with high marks while preparing for much tougher exams ahead.
Riley Leonard threw for 248 yards and a touchdown and ran for another score as the 18th-ranked Blue Devils routed winless Connecticut 41-7 on Saturday with a dominant defensive performance.
Duke (4-0) held UConn (0-4) to 203 total yards and allowed just 32 yards in the first half to take a 27-0 lead. The Huskies' only score came with 12 seconds left in the game.
Duke defensive tackle DeWayne Carter put an exclamation point on the win in the third quarter. The 305-pound team captain picked up a Jalen Mitchell fumble and rumbled 27 yards for a touchdown.
Duke, which hosts No. 9 Notre Dame next week, is 4-0 for the first time since 2018.
"It was great to go out there and get a job done, to get an early lead, to get out in front at halftime and then to kind of put that thing away so we could rest a lot of our players in the fourth quarter," coach Mike Elko said.
The Huskies, three-touchdown underdogs, also suffered several self-inflicted wounds that put them in a hole early.
Connecticut lost Jackson Mitchell, the team's top tackler, to a targeting call early. That eventually led to Jordan Waters' 1-yard touchdown run in the first quarter that put the Blue Devils on the board. Duke's Nick Morris Jr. later recovered a fumbled pitch, leading to a 10-yard touchdown run for Waters in the second quarter.
Leonard's final pass of the game, a 22-yard touchdown to a wide-open Jordan Moore, made it 41-0.
Leonard finished the game 23 of 34 in the air with no interceptions and completed passes to six receivers. He had just 530 yards and one touchdown passing over the first three games.
"I think we definitely improved in the throw game today," Moore said. "It was an emphasis the whole week and all the receivers played well, Riley played really well and he got the ball to everybody, spread it out a lot."
Duke's Todd Pelino had two field goals, including a career-long 50-yarder.
THE TAKEAWAY
Duke: The Blue Devils have outscored opponents 149-35 and next week will be looking to start a season 5-0 for the first time since 1994.
UConn: The Huskies offensive woes continue. They are averaging 13 points per game and have not scored more than 17 in a contest this season.
POLL IMPLICATIONS
Duke, which has climbed to its highest ranking since reaching No. 16 in November 1994, should continue to rise in the polls in advance of next week's showdown with Notre Dame.
KEY LOSSES
Mitchell, who had 30 tackles coming into the game, was ejected because his helmet struck Leonard's facemask. An initial review found there was no targeting on the play.
"Then before the ball is snapped, Charlottesville or Charlotte or wherever they are, the ACC, they decide that 'Wait, we've got another view and we're going to decide to kick your best player off the field against an ACC team," UConn coach Jim Mora said.
BAND DRAMA
UConn's marching band did not show up for the game. The school issued a statement attributing the decision to illness among band members and concerns about traveling from campus as a result. But the school also said the decision was made "without consultation with key campus partners, which is an issue that has been addressed."
The no-show came as members and supporters of the UConn pep band took to social media to complain they were told they would not be traveling to Hartford during the basketball season to play at the XL Center. The school, in its statement, noted that "the Marching Band and Pep Band will continue to attend and perform at future games as they always have, including at ... XL Center."
MORE SICKNESS
UConn's starting running back, Devontae Houston, left the game in the first half with an illness after running the ball just once for 2 yards.
UP NEXT
Duke: The Blue Devils host No. 9 Notre Dame next Saturday night in Durham.
UConn: The Huskies host Utah State next Saturday.
___
Copyright 2023 WITN. All rights reserved.