CarolinaEast distributes $145,919 check to organizations, raised from campaign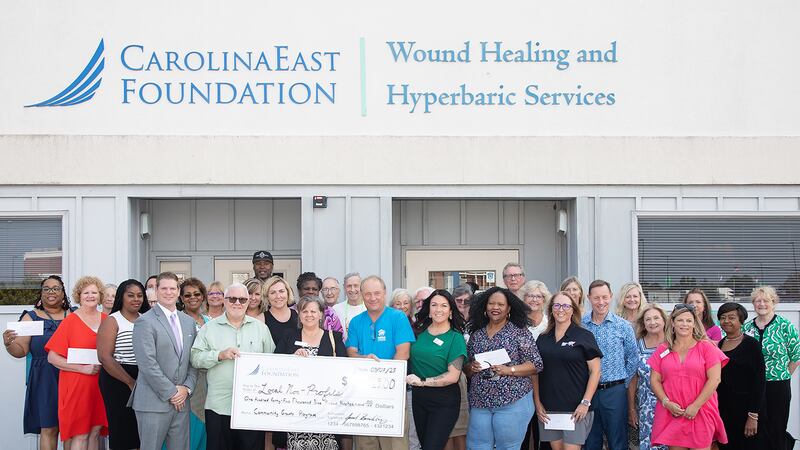 Published: Sep. 21, 2023 at 1:20 PM EDT
NEW BERN, N.C. (WITN) - Sixteen organizations here in the East are receiving fundraised donations from a hospital foundation.
On September 7, CarolinaEast Foundation hosted a check-passing event where money raised from their most recent fundraising campaign was donated to sixteen organizations here in the East.
CarolinaEast reports they passed out checks made from the $145,919 raised and that 100% of it was fundraised during the Employee Campaign.
"The CarolinaEast Foundation is incredibly excited to support the tremendous work that these organizations are doing in our community," said Katie Giles, chair of the CarolinaEast Foundation Allocations and Disbursement Committee.
The following non-profits were served with these grant dollars:
Ainsley's Angels – Race chair for inclusive access to endurance events for individuals with disabilities

Coastal Women's Shelter – Therapeutic services for domestic and sexual violence victims and survivors

Craven Arts Council and Gallery – Providing arts accessibility to Craven County citizens through an AED machine and wheelchair

Craven County Senior Services: The Sunshine Center – Scholarships to families for respite services

Craven Literacy Council – Health literacy program

Crystal Coast Cancer Rehab Center – Scholarships for cancer survivors for rehabilitative exercise therapy

Eight Way Center – The Eight Way Health Fitness Program

Habitat for Humanity of Craven County – AED machines for Habitat ReStore, construction sites, and administrative office

Hope Clinic – Indigent medical care, mobile outreach, and integration of electronic medical record system

Hope Recovery Homes – Scholarships for recovery program

Mile of Hope – "Get-away" weekend to the North Carolina Crystal Coast for children who are suffering from cancer and their families

One Place – Providing mental health services for children who have been maltreated

Pamlico County Community for the Aged – Ramp construction project

True Justice – Outreach, assistance, and resources for survivors of human trafficking

Voices Together – Pre-employment transition services preparation initiative for Jones and Pamlico Counties and a Crystal Coast autism community group in Craven County

YMCA of the Triangle: Camp Sea Gull & Seafarer – Anchoring the Family program
Copyright 2023 WITN. All rights reserved.