Rivers heating up faster than oceans according to a new environmental study
The research recently released by a team at Penn State University points towards the dire reality aquatic life near rivers face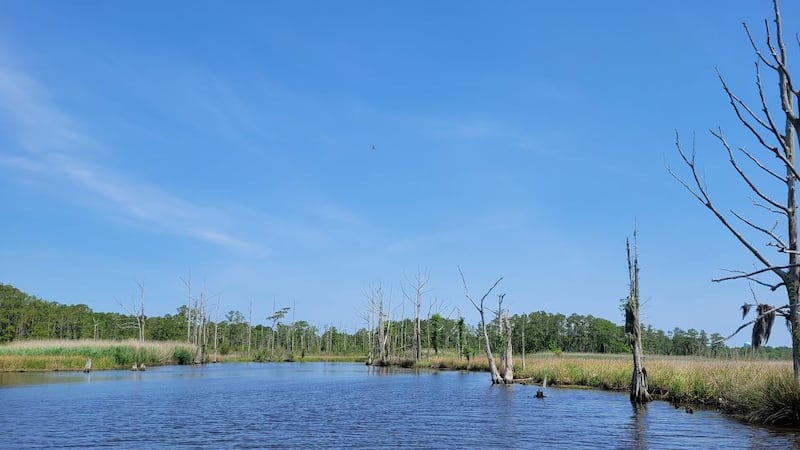 Published: Sep. 20, 2023 at 5:05 PM EDT
|
Updated: Sep. 20, 2023 at 5:06 PM EDT
GREENVILLE, N.C. (WITN) - According to a new study recently released by Penn State University, rivers and tributaries are warming at a faster rate than oceans. This is depleting many rivers of oxygen, a key measurement when determining the ecological health of the river. The problem of oxygen deprived rivers will only intensify as global temperatures warm and will lead to more frequent and widespread "fish kills", destroying the biodiversity of many shallow aquatic environments.
The study focused on 800 rivers across the U.S. and Central Europe and found that 87% of those rivers were warming and 70% had a dissolved-oxygen deficiency. The study relied o artificial intelligence and deep learning to help account for traditionally sparse river data over the past 40 years. Urban rivers demonstrated the fastest rise in temperatures while agricultural rivers showed the fastest levels of de-oxygenation.
"This is a wake-up call. We know that a warming climate has led to warming and oxygen loss in oceans, but did not expect this to happen in flowing, shallow rivers," said Li Li, Penn State's Isett Professor of Civil and Environmental Engineering and corresponding author on the paper. "This is the first study to take a comprehensive look at temperature change and deoxygenation rates in rivers — and what we found has significant implications for water quality and the health of aquatic ecosystems worldwide."
Oxygen is not the most water soluble molecule, so when the water heats up (the kinetic energy speeds up on a molecular level) it allows the dissolved oxygen to squeeze its way out of the water and back into the atmosphere. Fresh water tends to be more oxygenated than salt water as the sodium and chloride molecules of salt water take up some of the space the dissolved oxygen would normally use. With many rivers' headwaters in mountainous areas where they are fed by rainfall and snow melt, and then tumble downhill becoming oxygenated through the turbulence, it's easy to see why most would expect to see rivers show resilience to a warming atmosphere. Unfortunately, those factors are no longer strong enough to stave off the heating we've seen in the past four decades.
The runoff from farms near rivers increases the nutrient levels in the river, specifically the amount of nitrogen and phosphorus. Plant life, whether its soil-based or aquatic, thrive with those nutrient rich waters, which leads to algal blooms. Those blooms die off after a short period and the bacteria that eats the decomposing algae suck dissolved oxygen out of the water, exacerbating the deoxygenation trend.
"If you think about it, life in water relies on temperature and dissolved oxygen, the lifeline for all aquatic organisms," said Li. "We know that coastal areas, like the Gulf of Mexico, often have dead zones in the summer. What this study shows us is this could happen in rivers as well, because some rivers will no longer sustain life like before."
For more information on this study, you can find it here.
Copyright 2023 WITN. All rights reserved.