Greenville gets the students ready to go back to school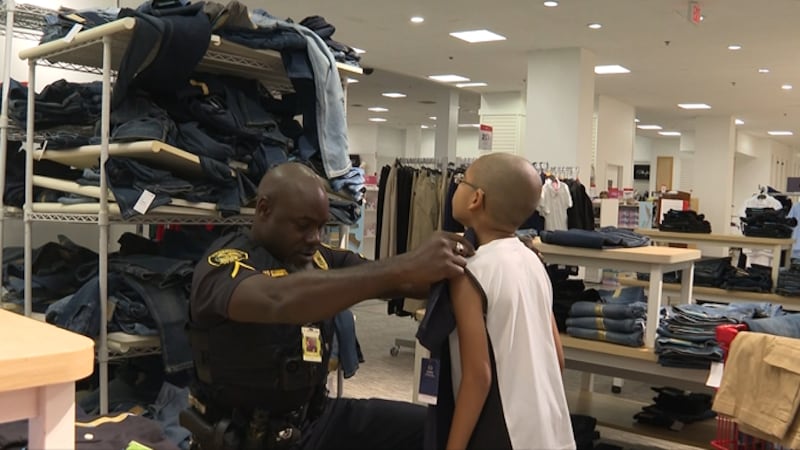 Published: Aug. 19, 2023 at 9:11 PM EDT
GREENVILLE, N.C. (WITN) - Back to school season is here and Greenville is getting ahead of the game with preparing students for their school year.
No matter what financial background people come from, the community made sure every student felt more than ready to get back to school.
Saturday, Greenville was filled with the excitement and back-to-school spirit as "Team," an East Carolina University student organization raised 600 dollars for an event Saturday to help students in need.
This school supply giveaway had 40 backpacks, pencils, notebooks, markers, all kinds of school supplies, and free pizza as a bonus.
Darius Wingfield, a Team member said, "Not everybody has school supplies that they need, going into school, but also having representation of college black men, that are wanting to give back to the community, showing little kids that it is achievable to go to college and this is one of the steps that it takes to get to that next level."
The event was also for a good cause, giving out free school supplies was in the memory of Eric Pittman Jr., a Team member who was a big advocate of giving back to the community.
His fellow team members say this is how Pittman would have served the community.
Greenville Police Department and Noon Rotary also carried the spirit of giving back to the community for back-to-school season by taking out the kids from age 5 to 13 for a shopping spree at JC Penny.
Not only was "Shop with a Cop" a way to prepare for the upcoming school year, but also, a bonding experience with kids and cops.
Zyshanti Davis, a Shop with a Cop participant, told WITN News, that her cop was a great companion for her shopping spree. "She's been fun, she's nice, and I like to go shopping without paying for it."
owever, it wasn't an easy shopping day for everyone.
Elijah Ndukwe, another Shop with a Cop participant shared, "I picked out everything, but nothing could fit me."
That was why rotary employees and cops were there to make sure every kid got what they needed in the right size.
Keith Garner, the Greenville Police Department Lieutenant said, "I think it's a confidence builder. to be able to allow the kids to come and shop and you know, pick out things that they like, and also, it helps us build relationships with them, to be able to see the smiles on their faces that they are excited about this event."
Events like these not only get them ready and excited for school, it also inspires them with good role models and provide guidance. Organization Team also provides mentorships for students from kindergarten to 12th grade.
If you missed today's events, don't worry because there's more to come next weekend. There will be a free movie night with free school supplies for students on Saturday the 26th in Jacksonville.
There will also be an Educators Sunday on the 27th at Pentecostals of Greenville church.
Copyright 2023 WITN. All rights reserved.