First Alert Weather Day Tuesday and Thursday: Tropical Impacts Increasing For Eastern NC
Franklin expected to bring high surf, Tropical Depression Ten aims for the Southeast US, including Eastern NC
Published: Aug. 19, 2023 at 10:02 AM EDT
|
Updated: Aug. 26, 2023 at 11:54 PM EDT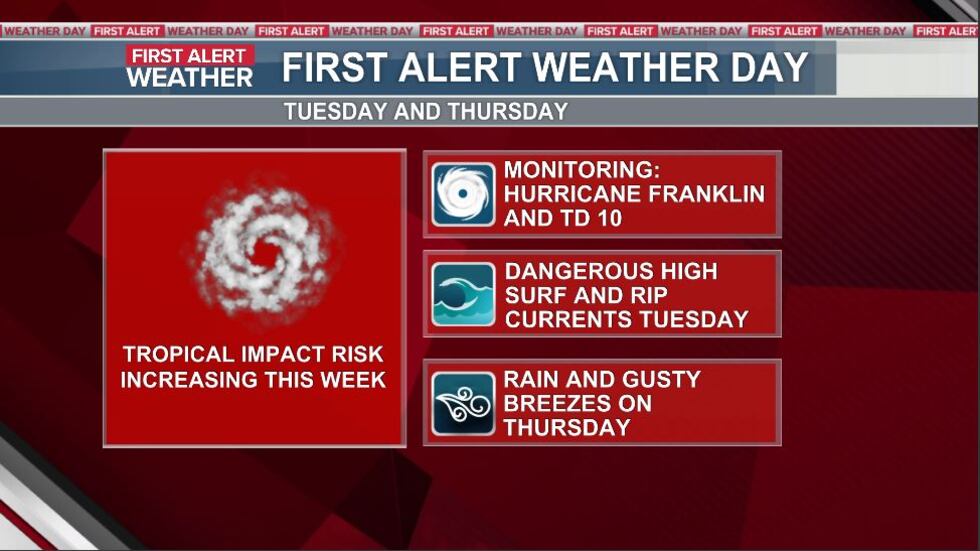 GREENVILLE, N.C. (WITN) - The WITN First Alert Weather Team continues to monitor Hurricane Franklin and Tropical Depression Ten in the Atlantic Basin. As of 11 p.m., the National Hurricane Center initiated advisories on newly formed Tropical Depression Ten. Winds were near 30 mph with higher gusts. Tropical Depression Ten's movement is towards the SW at 2 mph. However, TD Ten is forecast to gradually move towards the north and intensify into a tropical storm over the coming days. The NHC's forecast track has TD Ten potentially strengthening to Category 1 hurricane by Tuesday as it approaches Florida. This is a system that we need to closely monitor over the next several days as all of Eastern NC are now included in TD Ten's forecast cone. It's too early to talk exact threats but the timing looks to be late Wednesday into Thursday. It's a good time to take a look at your hurricane plan and supplies as a family even if the threat shifts somewhere else.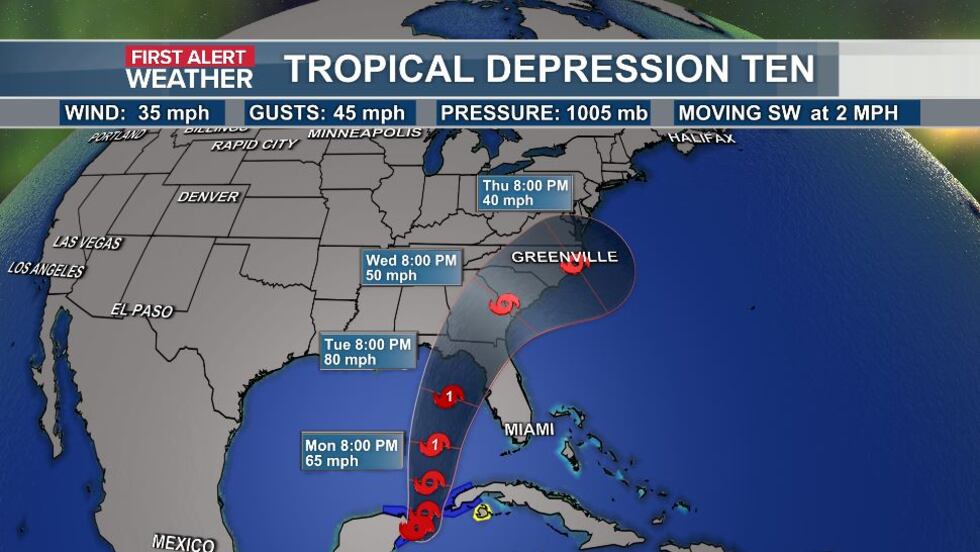 As of the 11 p.m. advisory from the National Hurricane Center, Franklin was moving to the NW at 8 mph. Sustained winds are up to 85 mph, with gusts at 105 mph. Franklin is expected to become a Category 3 hurricane on Sunday. Franklin will pass between the Outer Banks and Bermuda on Tuesday. While inland areas will be spared from all of Franklin's potential impacts, Franklin will still stir up the ocean enough to cause headaches along our coast. Beachgoers should expect to see dangerous rip current threats starting Monday and lasting through Wednesday. Beach erosion will also be an issue for some communities due to a King Tide event that will last from Sunday to Thursday. Major flooding is unlikely, but ocean overwash along Highway 12 will be possible around high tide.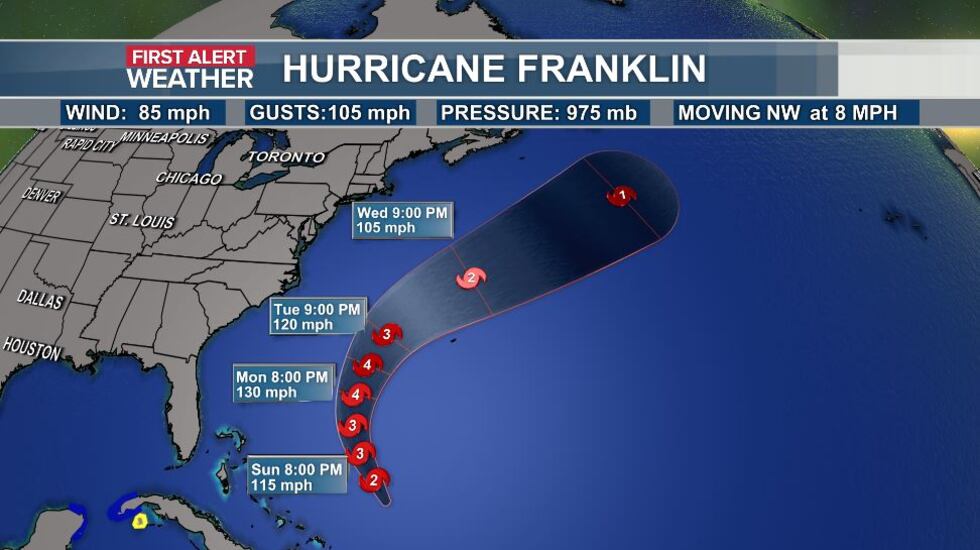 Stay with WITN as we continue to watch the tropics, as we enter the peak of hurricane season.
Copyright 2023 WITN. All rights reserved.