First Alert Weather Day: Storms start to arrive after a hot afternoon
Severe storm risk will increase late this evening before winding down early Wednesday
Published: Aug. 10, 2023 at 10:44 PM EDT
|
Updated: Aug. 15, 2023 at 4:30 PM EDT
GREENVILLE, N.C. (WITN) - The heat peaks today with highs reaching the mid to upper 90s. An Excessive Heat Warning for all counties except the Outer Banks will be in effect until 7 p.m. The intense heat will help fire up a few big storms this evening and will linger into the early hours of Wednesday morning. A Severe Thunderstorm Watch is in effect for most counties surrounding ENC until 9 p.m. The heat will break on Wednesday as the mercury is expected to stay below 90° for most areas.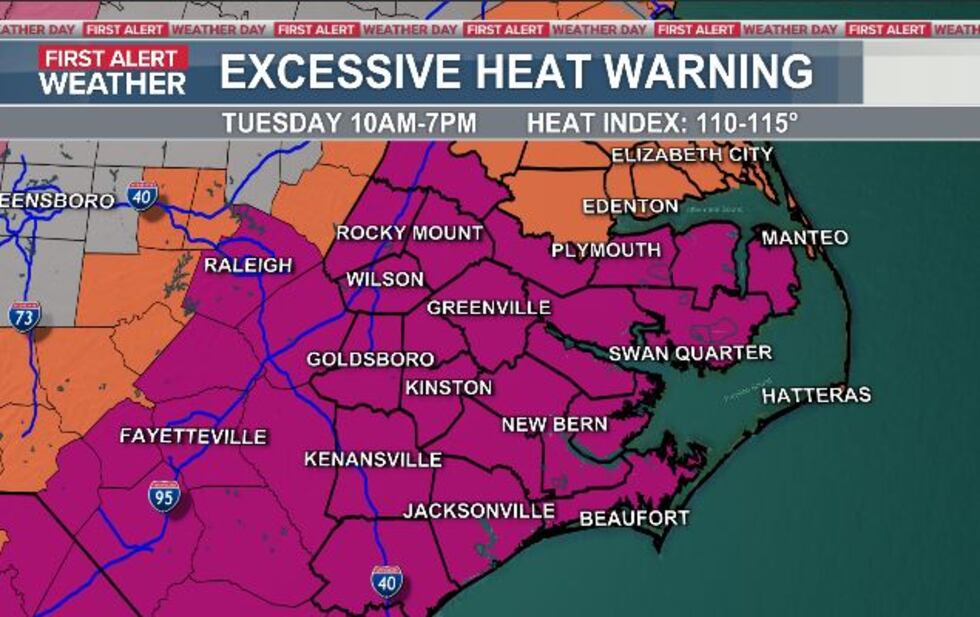 New Bern set a new record high again on Monday. Temperatures reached 97°F before rain cooled the area. The previous record was 95° set back in 1948 at New Bern's Coastal Carolina Regional Airport. New Bern set a new record high on Sunday as well, along with two highest overnight low records. Taking the two-day average of this heat wave, it's the hottest weather since July 2012.
The dangerous heat will help energize scattered late day to evening storms ahead of the approaching front. Most of eastern Carolina is under a slight (level 2) risk for severe weather late Tuesday. The chance for severe weather will run from 5pm to 11pm. The main risk will be wind gusts up to 60 mph. Heavy downpours and frequent lightning are likely as well. The tornado risk is low, but an isolated tornado cannot be completely ruled out.
Download the free WITN Weather App for the latest forecasts and real-time updates on ENC weather.
Copyright 2023 WITN. All rights reserved.