Latest from the tropics: Tropical Depression #4 forms; Bret closing in on the Antilles
Tropical Storm Bret is expected to cross the Leeward Islands late Thursday
Published: Jun. 21, 2023 at 7:34 AM EDT
|
Updated: Jun. 22, 2023 at 5:53 AM EDT
GREENVILLE, N.C. (WITN) - As of the 5:00 a.m. Thursday advisory, Bret was still a tropical storm with winds of 70 mph. It is heading west at 15 mph, continuing along its path towards the Caribbean. The island of Martinique is under a Tropical Storm Warning while Dominica and Guadeloupe are under a Tropical Storm Watch.
Over the next 24 hours, Bret is expected to intensify, move over the Lesser Antilles and then weaken as it slides into the Caribbean Sea. Bret will have the potential of producing high surf, locally heavy rainfall and strong winds along the entire island chain.
Once in the Caribbean Sea, Bret's structure is expected to slowly fall apart, weakening the system as it progresses towards the Yucatan Peninsula. Bret currently poses no threat to the U.S.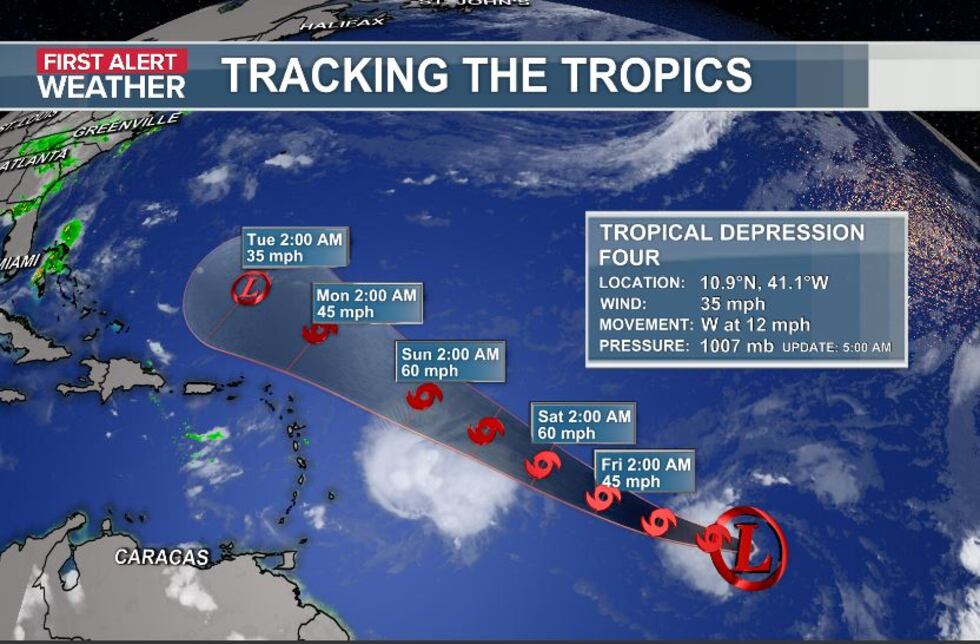 Tropical Depression #4 has formed in the deep Atlantic. It is heading west at 12 mph, with sustained winds of 35 mph. The storm will likely strengthen into Tropical Storm Cindy late Thursday or Friday.
Stay tuned to WITN, WITN.com, and the WITN First Alert Weather App for the latest information. Also be sure to pick up the 2023 WITN Hurricane Survival Guide at participating stores.
Copyright 2023 WITN. All rights reserved.